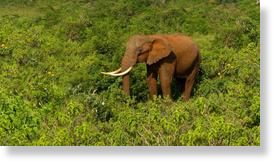 More than 20,000 African elephants across the continent were killed for their ivory last year, with poaching increasing across 33 per cent of the sites monitored, including Dzanga Sangha in the Central African Republic, a new report shows.
Although this number is shocking, and far exceeds the natural elephant population growth rate, the report, released by the Secretariat of the Convention on International Trade in Endangered Species of Wild Fauna and Flora (CITES), highlights that this number is actually slightly lower than the 2011 figure, when numbers peaked following a dramatic increase that had begun in the mid 2000s.
It also shows a clear increase in the number of large seizures of ivory, ie shipments over 500kg, made before the ivory had left the African continent. For the first time, these seizures exceeded those made in Asia.
"Africa's elephants continue to face an immediate threat to their survival from high-levels of poaching for their ivory, and with over 20,000 elephants illegally killed last year the situation remains dire," said John E Scanlon, Secretary-General of CITES.
"Due to the collective efforts of so many we also see some encouraging signals, but experience shows that poaching trends can shift dramatically and quickly, especially when trans-national organised crime is involved."
Source: ELEPHANT CONSERVATION, ILLEGAL KILLING AND IVORY TRADE