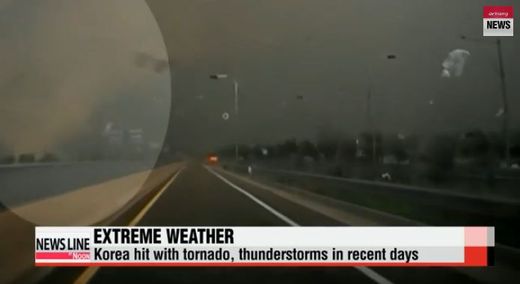 Tornado and Korea are two words you would never normally hear in the same sentence.
But you will now... because a tornado was spotted in Korea earlier this week.
News of this twister, coupled with freak thunderstorms and torrential rain showers in recent days, has people asking if it's all down to climate change.
The worst flooding in the Balkans in over a century... an unusually heavy hailstorm in Sao Paulo, Brazil... and exceptionally heavy snowstorms in the central United States.
The effects of climate change are being seen across the globe through abnormal weather events
... and Korea is no exception... as evidenced by the last few days.
A tornado near Ilsan in Gyeonggi-do province this Tuesday... was
the first ever spotted on the mainland
.
The twister lasted for at least an hour... leaving a trail of destruction in its path... with at least 21 greenhouses destroyed.
Tornadoes aside, other parts of the nation have had their own unique weather experiences this week, which include torrential rain and hail--both of which are unusual this time of year.
Meteorologists say an unstable atmosphere is to blame.
Five-kilometers above the nation, the air is currently at a temperature of minus-15 degrees.
Early summer daytime conditions on the surface are generating rain clouds in the skies... leading to torrential rain and hail.
For the immediate future, weather forecasters think we're out of the woods in terms of the damaging storms.
But climate experts worry that the
recent events could be a sign of more worrying changes to come.