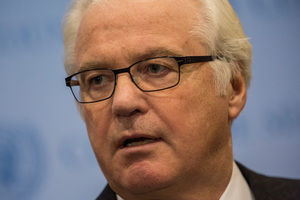 Attempts to whitewash the backgrounds of Ukrainian nationalists who openly cooperated with the Nazis and committed mass murders in WWII are "morally repulsive," and encourage "nationalist ideology, extremism and intolerance," Russia's UN envoy says.
"It is deeply disturbing that the followers of [Stepan] Bandera are openly marching these days in Ukraine, displaying his portraits and fascist insignia, and are wielding considerable political power in Kiev," Vitaly Churkin said after Thursday's Security Council meeting in response to response to comments made earlier by Ukrainian Ambassador to the UN Yury Sergeyev.
Attempts to whitewash them "are not only morally repulsive, they amount to
encouraging nationalist ideology, extremism and intolerance
," Churkin stated.
Churkin quoted Sergeyev as saying earlier that Soviet Union "tried to press Western allies to recognize what you called 'Banderas' and others as killers." And the reason the Nurnberg process didn't recognize that was "because it was falsified."
In response to that claim, Churkin said that there are
"
massive documentary evidence" that proves otherwise, pointing to the fact that the Organization of Ukrainian Nationalists (OUN) and Ukrainian Insurgent Army (UPA) "collaborated with the Nazis."
"They took part in mass killings of civilians and punitive operations against partisans in Belarus, Ukraine and Poland," Churkin said.
It began with the invasion of Ukraine by the Nazi troops, which was followed by OUN's leader Stepan Bandera issuing the Act of Proclamation of Ukrainian Statehood that stated: "The newly-formed Ukrainian state will work closely with the National-Socialist Greater Germany, which under leadership of Adolf Hitler is forming a new order in Europe and the world..."
During WWII those Ukrainians that joined in the Nazi collaborators "provided the majority of the executioners who murdered over 150,000 Jews in Babiy Yar in Kiev. Gypsies and Soviet POWs were also executed there," the Russian UN envoy stated.
Churkin cited another horrific example in which over 100,000 women, children and unarmed men were slaughtered in Volhynia, Poland.
During the last decade any attempts by Ukraine to make Bandera out to be a national hero were heavily criticized around the world.
Churkin quoted international Jewish human rights organization the Simon Wiesenthal Center as expressing "deepest revulsion" in 2010 at the decision by the then-president of Ukraine to honor Bandera.
In another case, the European Parliament adopted a resolution also in 2010, which criticized the decision to award Bandera the title of 'National Hero of Ukraine'.
"The European Parliament called on the Ukrainian leadership to reconsider such decision and 'maintain its commitment to European values'," Churkin recalled.
That same year, Polish President Lech Kaczynski acknowledged that OUN and UPA helped with mass murders of Polish civilians, killing 100,000 people. Churkin quoted him as saying: "Poles were being killed for being Poles."