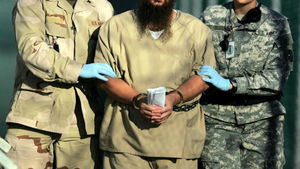 A US federal court recently declined to stop force-feeding of detainees at Guantánamo Bay. The Court of Appeals for the District of Columbia Circuit refused
to issue a preliminary injunction
.
"The rights of men being held in Guantánamo are being completely ignored, and the hunger strike is the only option they have left to protest their indefinite detention, which has lasted more than 11 years without charges for some of them," said Dr Vincent Iacopino, of
Physicians for Human Rights
. "
By allowing the cruel and degrading practice of force-feeding to continue, the court has essentially authorized the continuation of an abusive tactic that violates human rights and fundamental medical ethics
."
The detainees being forced-fed are being held in indefinite detention, which is in itself a violation of human rights, according to the PHR. A preliminary injunction would have at least stopped force-feeding, which constitutes ill-treatment and could rise to the level of torture.
However, two of the three judges said the detainees did have a right to challenge the practice in court, paving the way for a continuing legal battle over the issue. The judges also pointed that "force-feeding is a painful and invasive process that raises serious ethical concerns."