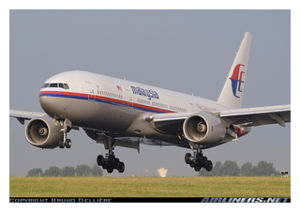 Search and rescue teams are trying to find a Malaysia Airlines plane that has gone missing with more than 200 passengers on board.
The airline lost contact with the B777-200 aircraft after it departed Kuala Lumpur shortly after 12.40am local time on Saturday.
It was expected to land in Beijing at 6.30am.
Flight MH370 was carrying 227 passengers including two infants and 12 crew members.
Malaysia Airlines said in a statement that it was working with the authorities who have activated their search and rescue team to locate the aircraft.
An unconfirmed report from a flight tracking website said the plane had plunged more than 200 metres and changed course in the last minute that it had transmitted data.
There have also been reports that it is the same type of plane involved in the Asiana crash last July in San Francisco.
The airline will provide regular updates on the situation.