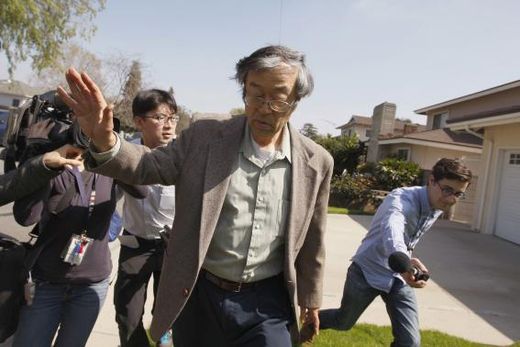 A Japanese American man thought to be the reclusive multi-millionaire father of Bitcoin emerged from a modest Southern California home and denied involvement with the digital currency before leading reporters on a freeway car chase to the local headquarters of the Associated Press.
Satoshi Nakamoto, a name known to legions of bitcoin traders, practitioners and boosters around the world, appeared to lose his anonymity on Thursday after Newsweek published a story that said he lived in Temple City, California, just east of Los Angeles.
Newsweek included a photograph and described a short interview, in which Nakamoto said he was no longer associated with Bitcoin and that it had been turned over to other people. The magazine concluded that the man was the same Nakamoto who founded Bitcoin.
Dozens of reporters, including a sprinkling of Japanese media, encircled and camped outside the man's two-story house on Thursday morning, accosting the mailman and repeatedly ringing the doorbell, to no avail. Police cruisers drove by several times but did not stop.
Several times, someone pulled back the drapes on an upstairs window.
In the afternoon, the silver-haired, bespectacled Nakamoto stepped outside, dressed in a gray sport coat and green striped shirt, with a pen tucked in his shirt pocket. He was mobbed by reporters and told them he was looking for someone who understood Japanese to buy him a free lunch.
Newsweek estimates his wealth at $400 million.
"I'm not involved in Bitcoin. Wait a minute, I want my free lunch first. I'm going with this guy," Nakamoto said, pointing at a reporter from AP. "I'm not in Bitcoin, I don't know anything about it," he said again while walking down the street with several cameras at his heels.
He and the AP reporter made their way to a nearby sushi restaurant with media in tow, before leaving and heading downtown. Los Angeles Times reporter Joe Bel Bruno followed the pair and described the chase in a running stream of tweets. Eventually, the pair dashed into the Associated Press offices in downtown Los Angeles.
Misunderstood
In a later AP interview, Nakamoto said he was misunderstood in a key portion of the Newsweek story, where he tells the reporter on his doorstep, "I am no longer involved in that and I cannot discuss it."
Asked by the AP if he had said that, Nakamoto said, "No."
"I'm saying I'm no longer in engineering. That's it," he told the AP. "And even if I was, when we get hired, you have to sign this document, contract saying you will not reveal anything we divulge during and after employment. So that's what I implied."
"It sounded like I was involved before with Bitcoin and looked like I'm not involved now. That's not what I meant. I want to clarify that," the AP reported him as saying.
The Bitcoin Foundation, an advocacy group promoting the adoption of the digital currency, said "... We have seen zero conclusive evidence that the identified person is the designer of Bitcoin."
"Those closest to the Bitcoin project, the informal team of core developers, have always been unaware of Nakamoto's true identity, as Nakamoto communicated purely through electronic means," it said in a post on its website.
Newsweek writer Leah McGrath Goodman told the AP that she stood by her story. "I stand completely by my exchange with Mr. Nakamoto. There was no confusion whatsoever about the context of our conversation - and his acknowledgment of his involvement in Bitcoin."
"Focused and eclectic"
Fans see Bitcoin as a digital-world currency beyond government interference, while critics, whose ranks swelled with the recent bankruptcy filing by major bitcoin exchange Mt. Gox, see a risky investment whose anonymity aids drug dealers and other criminals.
Nakamoto kept a low profile in part to avoid the attention of authorities, Newsweek said. On Thursday, the office of Benjamin Lawsky, superintendent of New York's Department of Financial Services, was keen on speaking with him, a source familiar with the situation told Reuters.
Bitcoin is bought and sold on a peer-to-peer network independent of central control. Its value soared last year, and the total worth of bitcoins minted is now about $7 billion.
In the Newsweek article, Nakamoto was credited by Bitcoin's chief scientist, Gavin Andresen, in working out the first codes behind the currency.
A man of few words who refused to discuss anything beyond the currency or even communicate outside of email, Nakamoto was described by his brother in the Newsweek article as "fickle and has very weird hobbies," including a penchant for model trains.
Japanese-born Nakamoto displayed an unusual aptitude for math as a child. He immigrated with his mother to California in 1959. He worked for defense and electronics company Hughes Aircraft, but never discussed work because much of it was classified, according to Newsweek interviews with several friends and relatives.
"He's very focused and eclectic in his way of thinking. Smart, intelligent, mathematics, engineering, computers. You name it, he can do it," Newsweek quoted Arthur Nakamoto, his younger brother, as saying.