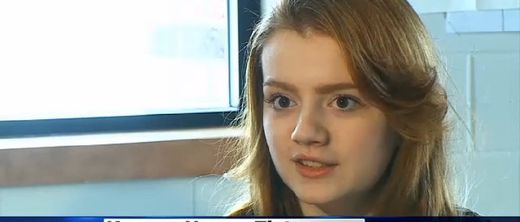 A Minnesota public high school was
so committed to obeying its fire drill policy to the exact letter of the law
that it forced a female student - dressed only in a swimsuit, and sopping wet - to stand outside in the freezing cold for ten minutes. As a result, she suffered frostbite.
Administrators wouldn't let the student retrieve her clothes, sit in a car or wait inside another building,
according to WCCO
.
The trouble began when a small science experiment triggered the fire alarm at Como Park Senior High School in St. Paul, Minnesota.
Fourteen-year-old Kayona Hagen-Tietz was swimming in the school pool for health class at the time. Her clothes were in her locker, and a teacher told her that there was no time for her to change. Hagen-Tietz was rushed outside - still wet and dressed in only swimsuit.
It was 5 degrees below zero in St. Paul that day. With the windchill, it was 25 degrees below zero.
Hagen-Tietz asked to wait inside an employee's car, or at the elementary school across the street.
But administrators believed that this would violate official policy, and could get the school in trouble, so they opted to simply let the girl freeze.
Her fellow classmates, at least, huddled around her to try to keep her warm. And one teacher did eventually lend her a coat.
Still, Hagen-Tietz came down with frostbite on her feet, according to her mother, Eva Tietz, who took her to the doctor as soon as she found out what had happened.
Eva Tietz
told National Review
that the school was wrong to put a wet, unclothed kid out in the cold.
"Immediately, when they had seen that, they should have had some kind of protocol," she said in a statement.
Tietz also noted that she would have been arrested for doing such a thing to her child.
"If I had a fire and brought my children out in that condition, you know, I'm sure I would be charged in some way or another if I didn't instantly bring them into a neighbor's house or someplace else," she said, according to WCCO. "The ultimate goal is to keep them safe and protect your children, and, in this instance, they did a really poor job."
Tietz wants the school to issue an apology and reexamine its fire policies.
The school district issued a statement saying only that it routinely reviews such policies.
Principal Dan Mesick did not immediately respond to a request for comment.