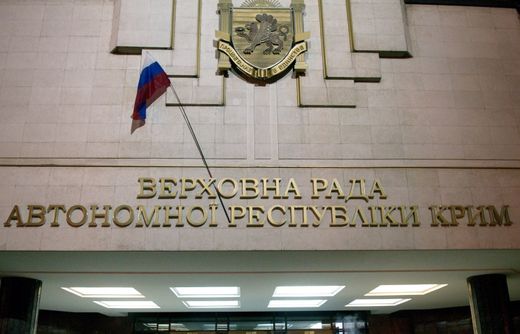 The Supreme Council of the Crimea on its session has made a fundamental decision for the Autonomous Republic of the Crimea to join Russia as a federal subject. First Deputy Prime Minister of Crimea Rustam Temirgaliyev told this Itar-Tass on Thursday.
Addressing the audience at the building of the Supreme Council, one of the deputies said: "Firstly, we've taken a decision to be part of the Russian Federation as Russia's subject. Secondly, the referendum will take place on March 16."
"Crimean residents will be asked: 'Are you for Crimea's being part of the Russian Federation?'," the deputy said, adding that the Supreme Council had also decided to address the Russian leadership to start a procedure for Crimea's being part of Russia.
Several thousands of people have gathered at the building and have Russian and Crimean flags in their hands.
Vladimir Putin informed about the Supreme Council's decision
President Vladimir Putin has been informed about the decision made by the Supreme Council of the Crimea on joining the Russian Federation as its subject. Presidential spokesperson Dmitry Peskov told this to Itar-Tass correspondent on Thursday.
"This news (about Crimean Supreme Council's decision) just arrived, and it has been reported to the President," he said. Peskov provided no further details.
Russian lawmaker reacts on decision
The Crimean legislature's approval of the idea the peninsula may join Russia is a historical decision, the State Duma's Deputy Speaker Sergei Neverov said. "We are one nation split because of [Communist] party functionaries' irresponsibility," said Neverov, secretary of the General Council of the ruling party, United Russia.