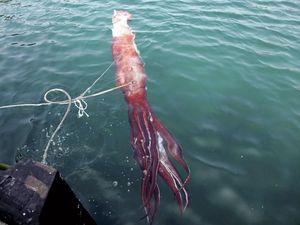 Kobe - A giant squid was captured alive in the Sea of Japan off Shinonsen, Hyogo Prefecture, but died shortly after being landed. Giant squids are normally a deep-sea dweller and one of the largest invertebrate species.
It is rare for a giant squid to be captured alive, according to an expert.
The squid measured 4.13 meters in length, but would have been eight to nine meters in length if its two longer tentacles had not been severed. It weighed between 150 and 200 kilograms.
Fisherman Tetsuo Okamoto, 63, first caught sight of the squid as he was diving for turban shells about five kilometers from the town's Moroyose fishing port at about 10:30 a.m. Tuesday. The giant squid swam over his head when he was about eight meters below the surface.
Okamoto managed to snare it with a rope, which he tied to his boat. He then transported the squid back to the port, but about 10 people were needed to haul it ashore. "I didn't think I'd ever get to see a giant squid swimming in the sea," he said.
Source: The Yomiuri Shimbun