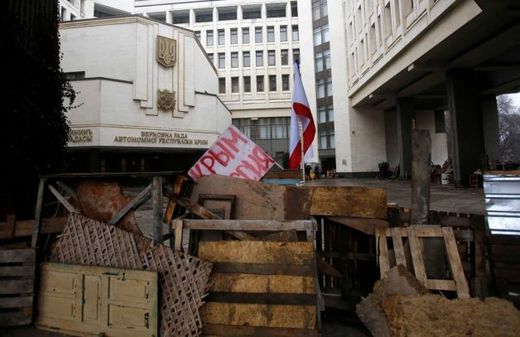 Armed men have seized the government buildings in the capital of the Ukraine's Crimea region and hoisted a Russian flag over a barricade.
The men occupying the parliament building in the regional capital, Simferopol, early on Thursday did not come out to voice any demands. They wore black and orange ribbons, a Russian symbol of the victory in World War II. The men also put up a sign saying "Crimea is Russia."
They threw a flash grenade in response to a journalist's questions. Phone calls to region's legislature rang unanswered, and its website was down.
Ethnic Tatars who support Ukraine's new leaders and pro-Russia separatists had
confronted each other outside the regional parliament on Wednesday.
Interfax
quoted a local Tatar leader, Refat Chubarov, as saying on Facebook: "I have been told that the buildings of parliament and the council of ministers have been occupied by armed men in uniforms that do not bear any recognisable insignia."
"They have not yet made any demands," he said.
About 100 police were gathered in front of the parliament building. Doors into the building appeared to have been blocked by wooden crates.
The streets around the parliament were mostly empty apart from people going to work.
"I heard gunfire in the night, came down and saw lots of people going in. Some then left. I'm not sure how many are still in there," said a 30-year-old man who gave his name only as Roman.
Ukrainian President Viktor Yanukovich was ousted on Saturday after three months of unrest led by protesters in Kiev.
He is now on the run being sought by the new authorities for murder in connection with the deaths of around 100 people during the conflict.
Crimea was transferred from Russia to Ukraine in 1954 in the Soviet-era by then Soviet leader Nikita Khrushchev.
With a part of Russia's Black Sea fleet based in the port of Sevastopol, it is the only region of Ukraine where ethnic Russians dominate in numbers, although many ethnic Ukrainians in other eastern areas speak Russian as their first language.
With Crimea now the last big bastion of opposition to the new post-Yanukovich political order in Kiev, Ukraine's new leaders have been voicing alarm over signs of separatism there.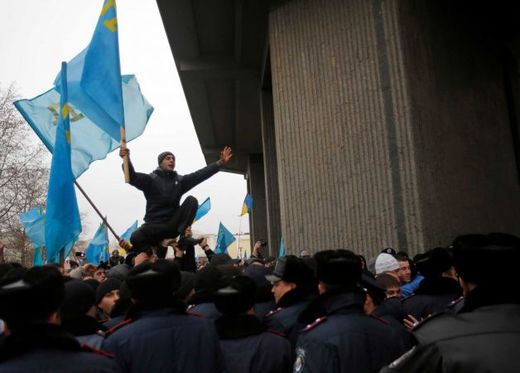 The Tatars, a Turkic ethnic group, were victimised by Soviet dictator Josef Stalin in World War Two and deported en masse to Soviet Central Asia in 1944 on suspicion of collaborating with Nazi Germany. Tens of thousands of them returned to their homeland after Ukraine gained independence with the collapse of the Soviet Union at the end of 1991.
Amid mounting tension in the region, Russia ordered 150,000 troops to test their combat readiness on Wednesday in a show of force that prompted a blunt warning from the United States that any military intervention in Ukraine would be a "grave mistake."
Putin put the military on alert for massive exercises involving most of the military units in western Russia, and announced measures to tighten security at the headquarters of Russia's Black Sea Fleet on Ukraine's Crimea peninsula.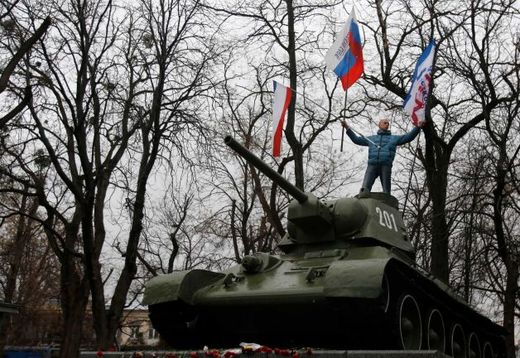 The manoeuvres will involve some 150,000 troops, 880 tanks, 90 aircraft and 80 navy ships, and are intended to "check the troops' readiness for action in crisis situations that threaten the nation's military security," defence minister Sergei Shoigu said in remarks carried by Russian news agencies.
Vladimir Putin's announcement of huge new war games came as Ukraine's protest leaders named a millionaire former banker to head a new government after the pro-Russian president went into hiding.
The new government, which is expected to be formally approved by parliament Thursday, will face the hugely complicated task of restoring stability in a country that is not only deeply divided politically but on the verge of financial collapse.
In Kiev's Independence Square, the heart of the protest movement against Yanukovych, the interim leaders who seized control after he disappeared proposed Arseniy Yatsenyuk as the country's new prime minister.
The 39-year-old served as economy minister, foreign minister and parliamentary speaker before Yanukovych took office in 2010, and is widely viewed as a technocratic reformer who enjoys the support of the U.S.