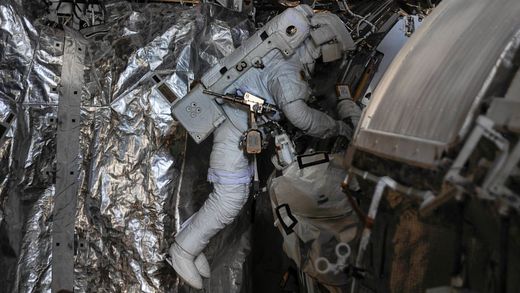 NASA will admit on Wednesday that Luca Parmitano's spacesuit leaked on two space walks in July, after details on the initial incident were not properly disseminated, ABC News has learned.
The Mishap Board appointed to investigate the spacesuit accident is releasing its report online at 11 a.m. EST, with a teleconference scheduled for 2 p.m.
The question for investigators is familiar: How often does a system have to fail before it is acknowledged as a problem?
The Space Shuttle Columbia accident, which killed seven astronauts in 2003, was blamed on NASA's repeated failure to understand the potential damage caused when insulating foam breaks off during launch.
Parmitano came dangerously close to drowning during the second spacewalk of his career on July 16. His helmet filled with several liters of water, giving him no way of clearing his eyes, nose or mouth.
Chris Cassidy, his spacewalking partner for that event, called down to a stunned Mission Control: "It's a lot of water. His head is saturated, it's in his eyes, as well as his nose and mouth ... squeeze my hand if you're fine, Luca."
Flight Directors in a follow-up press conference said they were surprised by the accident.
However, the same spacesuit had a leak on July 9. The report will say that information did not work its way up the chain of command.
The design of the spacesuits used by the astronauts is 35 years old, and the agency is down to just 12 in use - two were lost in the space shuttle Columbia accident.
While NASA is in the middle of designing new spacesuits, the agency remains in search of its next mission - with hopes of capturing an asteroid, going back to the Moon, or that perennial favorite, Mars.
Source: ABC News