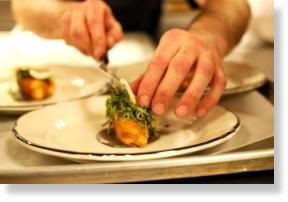 One man died and dozens more were treated in hospitals or at the scene after suffering carbon monoxide poisoning at a mall restaurant on New York's Long Island on Saturday evening, police said.
Police responding to a call about an injured woman at the Legal Sea Foods restaurant in Huntington Station, New York, found the 55-year-old manager unconscious in the basement, Suffolk County Police said.
The manager, identified by police as Steven Nelson, died of cardiac arrest as he was being transferred by ambulance said Julie Robinson-Tingue, a spokeswoman for Huntington Hospital.
Soon after arriving, police and emergency personnel felt nauseous and dizzy and recognized the symptoms as a carbon monoxide event, Suffolk County police said.
At least three people taken to the hospital remained in a stable condition while at least six were treated and released, Robinson-Tingue said.
In all, 27 people were taken to hospital, according to Suffolk County police.
Most victims were restaurant employees, but three police officers and four ambulance employees were among those who fell ill, police said.
Homicide and arson squad detectives were investigating, with focus on the restaurant's heating system.
Legal Sea Foods, which has locations around the northeastern and mid-Atlantic United States, said in several postings on Twitter it was "devastated by the news of carbon monoxide poisoning," and that it was "profoundly saddened to learn of the tragic death of our General Manager Steve Nelson," adding "Our thoughts and prayers are with his family."
Representatives for the mall could not be reached for comment.