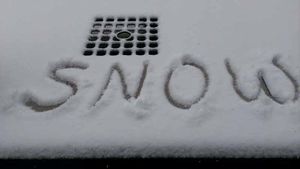 Georgia has declared state of emergency as a new winter storm is looming over the area two weeks after a rare storm paralyzed the state and wreaked havoc on roads and residents.
Gov. Nathan Deal extended the previous number of central and northern Georgia counties under a state of emergency to 45, after the National Weather Service warned of the upcoming storm, Atlanta Journal-Constitution reported.
Dean was publicly embarrassed for what critics called a lackluster response to the Georgia's snow gridlock on January 28.
The situation was compared to "end of the world" scenarios as Atlanta and other areas were covered by 2.6 inches of snow and ice. Thousands of motorists were stranded on the road.
Dean is trying to avoid the situation from repeating and has asked residents to "be off the road by early evening" Monday, as crews prepare the roads.
"I have directed the State Patrol, Department of Transportation and Department of Natural Resources to begin moving assets toward areas where the snow and ice are expected, and I have issued a 'warning order' for the National Guard -- an advance notice to personnel of the possibility of a 'call up' for a state mission," Deal said, according to Atlanta's local WSB-TV news outlet.
Deal said he was particularly worried about the "devastating" impact of ice dragging down power lines.
National Weather Service issued a winter storm warning Monday for the far northern suburbs northward, effective from 7 p.m. Monday through 7 p.m. Tuesday which prompted Deal to
declare a state of emergency for 14 counties, only to be increased to 45 counties later.
"Rain Monday night will change over to snow by sunrise Tuesday morning, occasionally mixing with sleet during the day," the Weather Service said. "All snow can be expected from Tuesday evening through Thursday morning."
"Precipitation will likely change back over to rain before transitioning again back to a mix of rain, sleet and snow Tuesday evening. By Wednesday morning, expect a mix of sleet and freezing rain, finally transitioning back to snow by Thursday morning."
Also on the other part of the US, people on Monday were struggling with a storm that wreaked havoc across the Northwest over the weekend, blanketing parts of Washington State with snow and socking Oregon and California with rain.
The northwest storm took three lives, including the deaths of a 61-year-old man and an elderly couple.