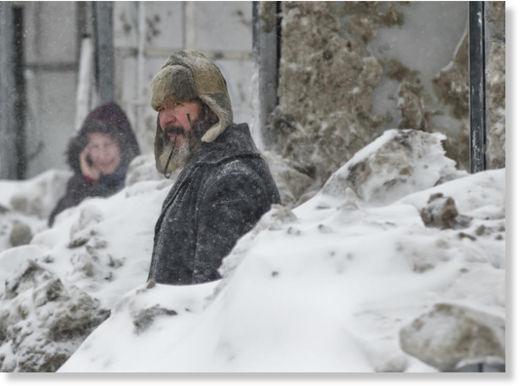 Up to half a meter of snow in 24 hours paralyzes 18 counties in Southern and Southeastern Romania. Tens of villages left without electricity.
Authorities have issued the first ever code red for massive snows and wind.
Around 5,000 troops in Romania are helping to clear snow after up to 50cm (20 inches) fell in some parts of the country in 24 hours.
Hundreds of people trapped on snowbound roads. Dozens of roads, including three main highways, have been closed because of blizzards and drifting.
Most schools in Romania are closed because of the continuing heavy snowfall.
Six people have died in the snowstorms raging in Romania.
The Romanian government is now considering whether to officially declare a state of emergency in the country.
The situation in Bulgaria is similar. Long queues of vehicles and jams are seen on the streets and roads because of the snow.
Meanwhile in Poland,
11 people have died of the cold in the last 24 hours.
Up to half a metre of snow falls in 24 hours
Snowstorms Sweep Parts of Romania, Causing Havoc
: Capital and much of country closed down by heavy snowfall
South of Romania paralyzed by snow and blizzard, six deaths
:
22 national roads closed to traffic or traffic was restricted on them yesterday. At national level, authorities closed off another 63 county roads. The three highways (A1, A2 and A3) were among the roads closed to traffic, according to the Infotrafic Center.
This one includes video:
Thanks to Argiris Diamantis and Sorin for these links.
"On Dutch television news cold weather and snowfall in the USA are being reported, but that it is the worst snow and ice in a generation is not mentioned," says Argiris. "They continue, of course, with news about the heat wave in Argentina.

"What the MSM do not mention: Temperatures in Poland dropped to -24°C, where 11 people died from cold in the past twenty-four hours. At the same time Romania declared Code Red over hazardous weather."