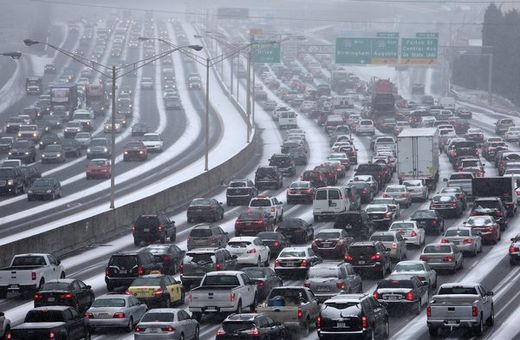 Thousands of commuters were trapped in cars overnight on highways in the greater Atlanta area, hundreds of students remained inside dozens of schools Wednesday morning and at least 50 children spent the night on school buses because of an ice storm that is still gripping the deepest parts of the South.
Residents ran out of medicine, a baby was born to a stranded mother and pleas for help flooded Twitter and Facebook as a region that rarely deals with ice and snow came to a screeching halt during a rare meteorological event that was still icing points this morning as far south as Brownsville, Tex.
"
This came very suddenly
," Craig Witherspoon, superintendent of Birmingham City Schools in Alabama, said Wednesday morning. An estimated 600 students in his district spent the night in schools, tended by about 100 staff members.
"All reports for the Birmingham area were that we'd get a light dusting to the south of where we were," Mr. Witherspoon said. "And the flakes started coming, and then it just poured out."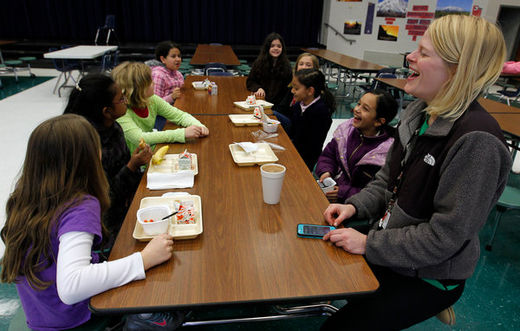 Although less than three inches of snow fell throughout the Atlanta region, the ice was crippling and its impact unanticipated. Hundreds of students spent the night in Atlanta schools, watched over by teachers, state patrol officers and the National Guard. Cindy Warner, a spokeswoman for the school system in Shelby County, Ala., said in an email early Wednesday that 26 schools housed about 1,500 students overnight. Three hundred adults stayed to monitor the children in the district, which is near Birmingham.
With much of the region under a coat of ice and temperatures not expected to climb above freezing on Wednesday, it was not clear when those students or the thousands of commuters still stuck on Interstates and side roads would be able to make it home.
The region knew the storm was coming. But few seemed prepared for the icing and the volume of traffic
.
In Atlanta, school closing were announced late, giving parents only an hour or two to try to get to their children. Office buildings emptied early, sending a tremendous wave of traffic onto the roadways in the early afternoon, about the time the roads began to freeze. Caught unaware, drivers found themselves at a standstill. Commutes of four miles stretched into six hours and many are still on the road.
Complaints that the Deep South's major cities and states did not properly prepare for the storm rose quickly.
Gov. Nathan Deal of Georgia and Mayor Kasim Reed of Atlanta held a joint briefing late Tuesday, by turns offering apologies and defending their response, saying they were much better prepared for this storm than they were for one in 2011, but adding that no one anticipated the huge number of cars and trucks that hit the road all at once.
"Within a very short time frame from the time the snow started falling here," Mr. Deal said, "It became very obvious that everyone was leaving to go home at the same time."
He asked people to stay off the roads. "We apologize to the public for the inconvenience," he said.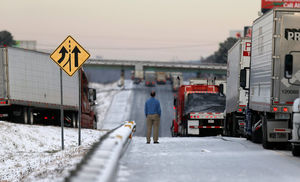 Alabama and Georgia called up the National Guard. In Montgomery, Alabama, authorities orderedall roads closed Tuesday night.
In the Atlanta area,
desperate drivers slept in the aisles of grocery stores, on gas station floors and on other businesses that kept their doors open
. Good Samaritans tried to make it out to roadways to bring food and water.
Many drivers ran out of gas
. A Facebook page called Snowed Out Atlanta was created as a kind of emergency switchboard for people trying to help friends and family members stuck on the road.
The posts became more desperate as dawn began to break. "Anyone know of an open home depot, fire station or anything else north of Acworth but close to 75??? A very elderly couple (late 90s) & their grandson need to get off the road asap!" one person wrote about 6 a.m.
Another post read: "My Mom Cynthia Herring and step dad with leukemia in need. stuck on 285 near cascade rd 17+ hrs. They are in a black Kia Soul.
Almost out of gas, no food, no meds
. For him. Please help"
At least four people died in snow-related accidents in Alabama, said Sgt. Steve Jarrett of the Alabama Department of Public Safety. And in Atlanta, at least one baby was born on Interstate 285 during the traffic jam Monday afternoon, assisted by the child's father and a police officer from Sandy Springs, Ga.
An emergency vehicle arrived shortly after the baby was born and took the family to a nearby hospital.