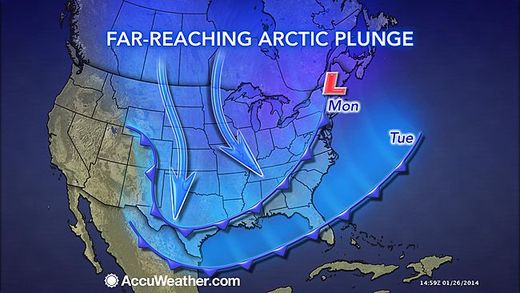 Just in time for Obama's State of the Union Address, where he is supposed to invoke global warming and the power of his mighty pen, comes another polar plunge the likes of which may not have been seen before:
"A blast of brutal cold will grip most of the eastern two-thirds of the United States through Wednesday and could yield the lowest temperatures so far this winter in many communities.
The impending polar plunge will rival the frigid days from earlier this January for the coldest daytime highs and nighttime lows so far this winter. This does not include South Florida.The arctic air first plunged into the Upper Midwest, northern Plains and northern Rockies on Sunday and is expected to continue pressing to the south and east through Tuesday.
The magnitude of this cold blast will be enough to produce a far-reaching threat of frostbite, hypothermia, frozen pipes and water main breaks.
Care should also be taken to ensure that livestock and other animals housed outdoors have adequate shelter.
Especially across the Midwest and Northeast, officials may decide to cancel or delay school due to the extreme cold. Some vehicles may struggle or fail to start for motorists.
While highs will be held to the 30s southward to the I-10 corridor, the Midwest and Northeast are bracing for the harshest conditions."
Read the rest here...
Meanwhile, Nanny Bloomberg News doubles down on climate change in what can only be described as a whopper of a tale. Long-discredited claims (even by the IPCC) somehow made it into this piece of drivel to scare the bejeebers out of its readers. Here's the first barn burner:
"Last week, the
New York Times
reported that venerable Dow Jones Industrial Average component Coca-Cola Co. was awakening to the impact of climate change on its business.
The increase in unpredictable weather, droughts, floods and other climate-related events was disrupting the company's product supply. Some of their "essential ingredients" are now under threat. Global warming, according to the article, is being seen "as a force that contributes to lower gross domestic products, higher food and commodity costs, broken supply chains and increased financial risk."
Problem is, there
hasn't
been an increase in
weather, droughts, floods, or other climate-related events
, according to Senate testimony by the non-skeptic Roger Pielke Jr., as well as NOAA and NASA's own real-time measurements. The next spectacle from this stunningly arrogant article (so many to choose from):
"Insurers stand to make larger payouts because of more severe weather and more frequent natural disasters. However, this will inevitably lead to appreciable higher insurance premiums and potentially rising profits."
Read more about this in part two of Roger Pielke's
Senate testimony
, specifically his comments on the catastrophe modeling firm RMS. It's a bit of jaw-dropper.