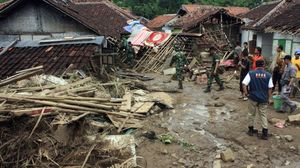 At least 19 people have lost their lives and ten others have gone missing following twin landslides triggered by torrential rains in Indonesia.
National Disaster Mitigation Agency spokesman Sutopo Purwo Nugroho said on Tuesday that five houses were buried under a pile of mud cascaded down from the surrounding hills in Mekarsari village of East Java's Jombang District during the early hours of the day.
Nugroho went on to say that the rescue team could pull seven bodies out of mounds of rubbles, while they are still looking for ten others who are reportedly missing.
He also confirmed the number of the dead, saying the toll is expected to rise.
"Lack of equipment hampered our rescue efforts for those who are still missing and feared dead," Nugroho said.
On January 24, a similar landslide hit Kudos District on central Java Island, killing at least a dozen villagers.
Indonesia is regularly hit with deadly floods and landslides during its wet season, which lasts for around six months.
The disaster comes as
the country is grappling with unrelenting volcanic eruptions in the western part
.
According to the National Disaster Mitigation Agency, more than 20,000 people have been moved to temporary shelters since the alert status for Mount Sinabung was raised to its highest level in November.
In 2010, more than 350 people lost their lives, following a series of volcanic eruptions in Mount Merapi on central Java Island
.