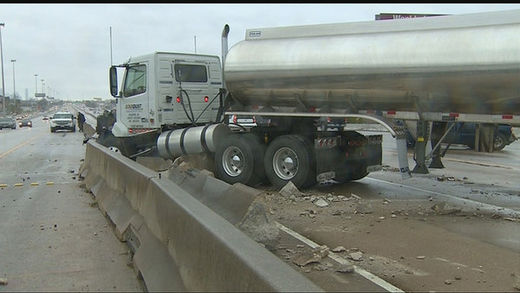 An Arctic blast dropped temperatures and brought snow and ice to Southeast Texas overnight.
As temperatures hover in the low 30s Friday, some roads may remain icy so drivers are
advised to use caution
, especially on bridges and overpasses, KHOU 11 News Meteorologist Brooks Garner said.
The icy road conditions on Friday morning
left many commuters stranded
on Houston roadways. The slick roads were
blamed for hundreds of accidents
in the Houston area, including a
jack-knifed 18-wheeler
that slammed through a concrete barrier.
Temperatures
slowly rose above freezing
in the afternoon. By 5:30 p.m., most roads had been cleared for any icing.
In Huntsville,
residents enjoyed a light blanket of snow
that stayed on the ground through sunrise. Further south, dozens of
freeway ramps and overpasses were shut down
due to icing.
Most Houston-area
school districts canceled classes
for the day, including Houston ISD, Katy ISD, and Fort Bend ISD.
While areas from College Station to Huntsville experienced a mix of snow and sleet, those hoping for snow closer to Houston were out of luck.
By 1 p.m. the precipitation was coming to an end, but moisture and heavy cloud cover remained in the atmosphere keeping temperatures cool, KHOU 11 News Meteorologist Mario Gomez said.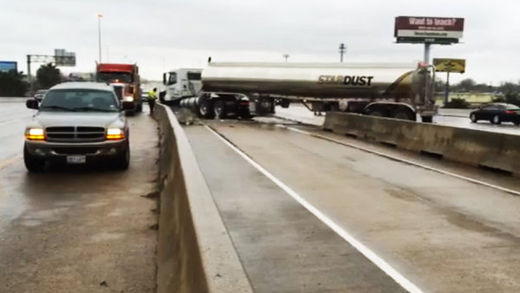 The temperatures are set to stay just above freezing through about 5 p.m. or 6 pm. Then at about 8 p.m. we'll face that downward trend again with numbers dropping below the freezing mark, he said.
The rest of this weekend will be cold in the early-morning hours, but our daytime highs will get into the 60s.
We'll cool down again next week with daytime temperatures in the 40s and 50s. Another blast of cold air will drop us into the 30s early Monday and into the 20s early Tuesday.