The dead body of a huge sperm whale has washed up on a beach near Edinburgh - capturing the attention of the local public.
Pictures showed the young whale in shallow waters off Portobello beach on the outskirts of the Scottish capital.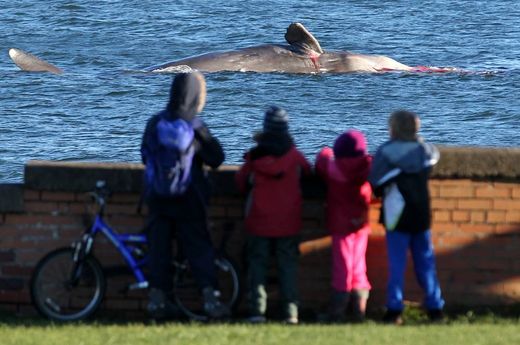 Scottish Animal Welfare (SAW) had been called in the early hours of this morning to the beach near the Rockville hotel in Joppa.
'On arrival it was clear life was extinct, so there was no need to mount a rescue operation,' explained SAW Chief Superintendent David Drummond.
A marine biologist is expected to take samples of the the sperm whale, which is usually found out in deeper waters of the Atlantic, before it is either pushed out to sea or removed from the water.
'It looks like it's a sperm whale, probably not an adult, and it's been here since at least 7.30 this morning,' explained Sarah Dolman, a manager of the Whale and Dolphin Conservation society.
'I can't see the length of it because it's mostly submerged. They can grow up to 15 metres, but I would say this one is not that big. I'm pretty sure it's dead, it's lying on it's side and the blow hole is completely submerged,' she told
The Mirror
.
Edinburgh's city council will be responsible for dealing with the carcass.