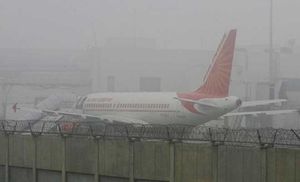 Following the worst fog of the last eight years, Delhi government on Monday announced leave for all schools here from January 07 to 11.
Due to fall in the temperature and dense fog today morning, air, road and rail traffic in the national capital was badly effected.
Fog and cold wave hit normal life here as the Indira Gandhi International Airport (IGI) airport was forced to shut down partially for around three hours early today after extremely poor visibility on the runway.
The national capital woke up to a foggy morning today with the minimum temperature settling down at 6.4 degree Celsius, one degree below normal.
The thick blanket of fog had descended last evening leading to disruptions in flight operations and delay in train movement. The fog, however, cleared as the day progressed.
The minimum temperature was 1.4 degrees lower than yesterday's 7.8 degrees Celsius.
The maximum temperature was registered at 17.6 degree Celsius which was three notches below normal and slightly down from the previous day's 19.3 degrees Celsius.
The humidity levels oscillated between 100 per cent and 65 per cent.
The MeT department has predicted mainly a clear sky with moderate or dense fog in the morning tomorrow with the maximum and minimum temperatures remaining at 18 and 7 degrees Celsius respectively.
Srinagar residents of Kashmir Valley were digging out from 2.3 mm of snow that fell overnight with temperature plummeting further two notches to minus 2.3 degree Celsius.
Foggy conditions disrupted normal life in Rajasthan affecting rail and road traffic where vehicles were moving at a snail's pace and some trains running behind the schedule.
Intense cold wave sweeping across Punjab, Haryana and Chandigarh continued unabated in most parts with mercury dropping to record-breaking minus 2.1 degree Celsius at Hisar.
Fog engulfing the northern region caused delay in premier trains like Rajdhani, Duronto and Shatabdi trains. Rajdhani trains coming from Guwahati, Ranchi, Patna, Howrah, Mumbai and Bhubaneswar ran late by three to five hours. Services of Sealdah Duronto and Kanpur Shatabdi were also affected because of the low visibility due to dense fog.
Amritsar and Adampur in Punjab also reeled under intense cold recording respective minimums of 0.3 deg C and 1.5 deg C.
The famous ski-resort of Gulmarg in Kashmir Valley registered a low of minus 9.7 degrees Celsius, as against the previous night's minus 9.8 degrees Celsius.
Leh, in Ladakh region, recorded a low of minus 7.9 degrees Celsius against the previous night's minus 8.6 degree Celsius.
The mercury in Kargil settled at a low of minus 13.1 degree Celsius, three degrees up from minus 16.1 degree Celsius the previous night.
Meanwhile, the Srinagar-Jammu national highway, the only road-link connecting Kashmir Valley with the rest of the country, is open for traffic. Churu in Rajasthan recorded a night temperature of 1.6 degrees C, while Pilani and Chittorgarh recorded a minimum of 2.5 and 5.7 degrees Celsius respectively.
With PTI inputs