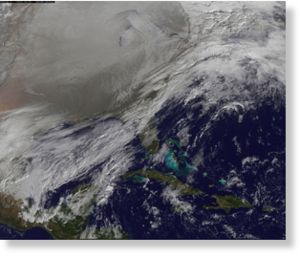 Award-winning Princeton University Physicist Dr. Will Happer rejected
the media
and
some scientists
claims that the record U.S. cold is due to man-made global warming. Happer, explained the science in an exclusive interview with Climate Depot:
"Polar vortices have been around forever. They have almost nothing to do with more CO2 in the atmosphere," Happer said in an exclusive interview with Climate Depot.
Happer continued: "Here is a thumbnail sketch of the physics. The poles have little sunshine even in summer, but especially in winter, like now in the Arctic. So the air over the poles rapidly gets bitterly cold because of radiation to dark space, with negligible replenishment of heat from sunlight. The sinking cold air is replaced by warmer air flowing in from the south at high altitudes. Since the earth is rotating, the air flowing in from the south has to start rotating faster to the west, just like a figure skater rotates faster if she pulls in her arms. This forms the polar vortex. The extremely cold air at the bottom of the vortex can be carried south by meanders of the jet stream at the edge of the vortex. We will have to live with polar vortices as long as the sun shines and the earth rotates.
Like any fluid system at "high Reynolds number," the jet stream is highly unstable, and from time to time it develops meanders to low latitudes, like the one we have had the past few days. About this time of year in 1777, just before the Battle of Princeton, there was a similar sequence. On January 2, Cornwallis's men marched south from New York City through cold rain and muddy roads to try to trap George Washington and his little Continental Army in Trenton . On the night of January 2-3, a polar vortex swept across New Jersey, with snow and a very hard freeze. Aided by the extremely cold weather, Washington was able to evacuate his troops and artillery over newly frozen roads and to avoid Cornwallis's encirclement. Reaching Princeton on the viciously cold morning of January 3, Washington won another battle against the British and escaped to winter quarters in Morristown. Thank you polar vortex!
Princeton U. Physicist Dr. William Happer and NASA Moonwalker & Geologist Dr. Harrison H. Schmitt
wrote on May 8, 2013 in the Wall Street Journal
: "Thanks to the single-minded demonization of this natural and essential atmospheric gas by advocates of government control of energy production, the conventional wisdom about carbon dioxide is that it is a dangerous pollutant. That's simply not the case."