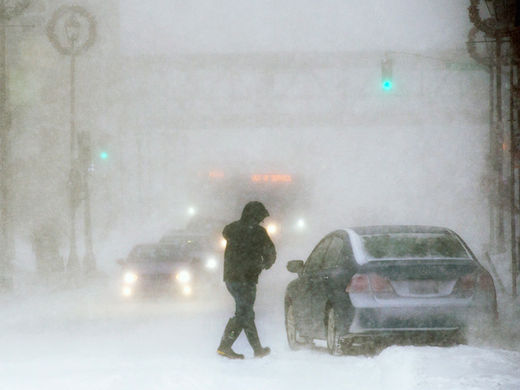 Much of Newfoundland, including in the St. John's area, is in the dark after a fire at a power station early Saturday knocked out power in the province.
Newfoundland and Labrador Hydro's Sunnyside terminal station caught fire causing the Holyrood Generating Station to shut down.
Newfoundland Power on Twitter said that about 125,000 customers are affected and full restoration may not happen until Sunday.
Here's a glimpse into the fire at sunnyside: http://t.co/QUvaCuKV9F -
Ariana Kelland (@arianakelland) January 04, 2014
Newfoundland had already been grappling with rolling blackouts implemented Thursday evening by the utility as it tried to cope with increased demand because of bitterly cold temperatures.
The blackout comes as much of Atlantic Canada spent Saturday cleaning up after a powerful blizzard which is blamed for cancelled flights and dangerous driving conditions.
The weather system whipped through the Maritimes Friday before passing southeast of Newfoundland's Avalon Peninsula overnight.
Environment Canada meteorologist David Neil said although the blizzard had moved offshore by Saturday morning, high winds were lingering in eastern Newfoundland.
Outages mainly affecting east coast. Could be up to 24 hrs b4 all customers are back. Crews are working as quickly and safely as possible. -
Newfoundland Power (@NFPower) January 04, 2014
He said winds of 100 kilometres per hour were causing blowing snow in some areas.
"It's caused some poor driving conditions and the winds have caused some issues with power outages," Neil said from Gander, N.L, adding that about 38 centimetres of snow was recorded at the St. John's International Airport.
RCMP in western Newfoundland were asking people only to venture onto the roads in emergencies. Numerous flights out of the St. John's airport were cancelled and delayed.
Meanwhile, forecasters said a frigid Arctic air mass would persist over northwestern portions of Newfoundland, where cold temperatures and strong winds were expected to produce
wind chill values reaching -35 C.
The storm had also dealt a blow to the Maritimes Friday, forcing the cancellation of flights, interrupting public transit and closing roads, government offices, universities and businesses.
The storm hit particularly hard in Nova Scotia, where retail outlets including liquor stores in Halifax, the Annapolis Valley and the South Shore were closed early. Bus service in Halifax was also suspended for the day.
Meanwhile, the storm has been blamed for at least 16 deaths in the northeastern United States. The heaviest snow fell north of Boston, where almost 60 centimetres had piled up by the time the storm moved out on Friday.
In southern Ontario, Environment Canada is warning of heavy snow and bitterly cold temperatures for Sunday evening.
Source: The Canadian Press