Thousands of UPS packages will arrive after Christmas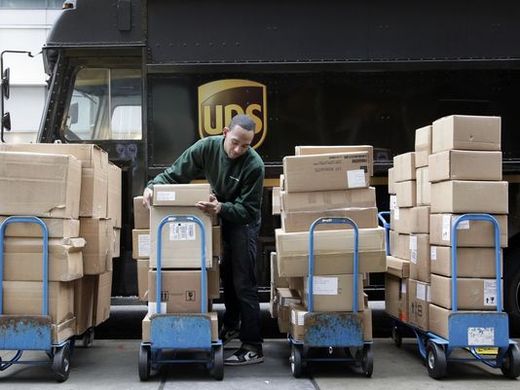 For the Allan family in Clearwater, Fla., Chicago beef is an annual holiday tradition. The family orders Christmas dinner shipped in every year from the famed Portillo's Restaurant.
"It's a big deal," said Jan Allan. "It's something to us that's special for our family. It's not something we can get in Florida."
She was planning a dinner party for 20 friends and family. When the food didn't arrive by early Christmas Eve, she was worried.
"I became concerned and tried to check the tracking number," said Allan.
It turned out the Allans were among thousands of families that didn't get their Christmas package by Christmas.
For the first time this year, UPS took on more overnight packages than it could deliver. The company apologized to customers, blaming bad winter weather in the South and a surge in online shopping.
The apology didn't go far with people on social media, which exploded with complaints about UPS and FedEx from customers furious about empty spots under their trees.
Most complaints were directed at UPS, which issued statements on Christmas Eve and again on Christmas Day acknowledging that the company was overwhelmed by unexpected volume and some packages were delayed until after the holiday.
Barry Tesh, 52, of Jacksonville, said in an interview, "A lot of these employees keep saying 'It's the weather' or 'It's some kind of a backlog.' Well then why, all the way up until the 23rd, were they offering next-day delivery? That guaranteed delivery was 80% of my decision to buy the gift."
UPS and Fed Ex did not respond to phone calls and e-mails seeking comment on Christmas Day.
"This has been the worst Christmas ever," said Larry Ledet, 55, of Houston, who has been a UPS driver for 27 years. He made 337 stops and delivered 505 packages Monday.
Even though Ledet and other UPS drivers have been pulling 60-hour weeks, thousands of holiday gifts didn't arrive by Christmas.
UPS normally delivers 16.3 million packages and documents, 2.3 million by air, every day. Those numbers soar around the holidays.
A statement issued Wednesday said, "UPS understands the importance of your holiday shipments. UPS is experiencing heavy holiday volume and making every effort to get packages to their destination."
UPS spokeswoman Natalie Goodwin said on Christmas Eve that "a small percentage of shipments are delayed and will not be delivered today."
Mike Reynolds, 43, of Martinez, Calif., said UPS' biggest mistake wasn't the delivery delay - it was that statement.
"They said 'a small percentage,' and that was insulting as a customer. It made me feel marginalized," Reynolds said. "My mother stayed home last night waiting for packages to come in. She just waited and waited and waited, and it never happened. She missed out on the festivities."
UPS elected not to ask employees to work on Christmas.
Christopher Lê, 34, of Moore, Okla., is still waiting for UPS packages, but he says it's not a problem.
"It's really easy to sit behind the Internet and bash UPS," Lê says. "People forget it's not just a corporation - it's people, too. I am proud that they made the decision to let their employees take off and spend Christmas with their families rather than make them come in because people were angry about their presents. The holiday season is about family."
On Facebook, there has been an outpouring of support for the "Santa's helpers in brown" along with criticism for UPS administrators.
Angela Lemond, 42, of Allen, Texas, placed an order with Amazon, which guaranteed delivery on Dec. 23. Now her packages won't arrive until at least Dec. 26.
"I feel bad because I see that UPS workers are being worked to the bone," Lemond says. "There is something that needs to be done higher up. They shouldn't be promising something they can't deliver."
Zimmer also reports for WTSP TV, Tampa
__
The Washington Examiner reports:
Sen. Richard Blumenthal: UPS owes customers refunds for late Christmas packages
:
"Sen. Richard Blumenthal is calling on United Parcel Service to refund customers who sent packages and gifts that failed to reach their destinations before Christmas.
A rash of bad weather and a rush of last-minute online orders caught postal and package delivery services off guard, meaning that thousands of packages that were supposed to be delivered before Christmas didn't arrive on time.
'I am disappointed to learn that so many consumers in Connecticut and across the country made purchases this holiday season expecting their gifts to arrive in time for Christmas, but instead were left empty-handed,' the Connecticut Democrat said."