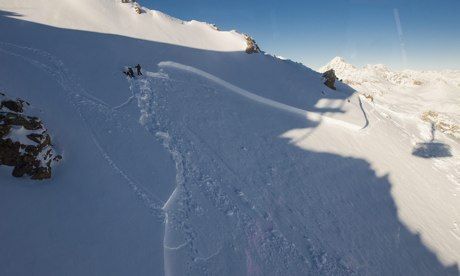 A series of
avalanches
in the Alps on Friday left four people dead, including a young Irishman, and several other skiers seriously injured, according to mountain rescue teams.
Off-piste skiers have been warned there may be further avalanches this weekend.
Seven skiers were swept away when avalanches hit the popular resorts of Val-Thorens, Courchevel, La Clusaz and Serre-Chevalier.
One man, reportedly a French mountain worker, aged 50, died in Courchevel as he tried to reach his chalet refuge with his son, when the pair were "surprised by an avalanche", mountain rescue services said. The son was saved, but his father died. In a separate incident at Serre-Chevalier, a second skier, described as between 15 and 20 years of age, died in hospital after being buried in snow after an avalanche reportedly under the ski lifts.
Two people were reported to be in a serious condition in La Clusaz after their group of six skiers and snowboarders, descending outside the marked runs despite warnings and advice for skiers to remain on the pistes, triggered an avalanche at an altitude of 2,200 metres. The snowfall hit the lower reachers of a black slope, where mountain rescue teams said they had no reports of victims but were searching the snowfall.
At Val-Thorens, seven off-piste skiers set off an avalanche and were swept away but rescued by the emergency services.
In neighbouring
Switzerland
, where heavy snow has fallen for the last two days, two skiers were declared dead in separate incidents, one in St Moritz. Rescuers said they were unable to reach the second victim, said to be a 27-year-old Irishman, living in Zurich, swept away by an avalanche in the Uri region south of Realp, because of weather conditions.
Ski authorities throughout the Alps where the avalanche risk was high said it was "imperative" that skiers kept to the marked slopes.
Friday's deaths were the latest in a grim series of fatal avalanches to have hit the Alps in the last few days. On Thursday, a French skier, aged 24, from Annecy, died in the Italian Alps above Turin and on Wednesday a 27-year-old Spanish skier was killed by an avalanche in Andorra.
None of the victims have been named.