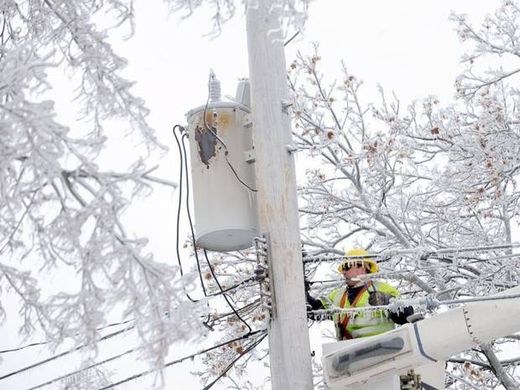 Repair crews worked around the clock Tuesday to restore power to nearly half a million customers who faced a cold and very dark Christmas Eve in parts of the central and northeastern United States and into eastern Canada after a weekend ice storm. At least 24 deaths have been linked to the storm.
The US National Weather Service said more snow was expected to move into the Northern High Plains and Central Rockies on Tuesday before rolling into the Great Lakes and Midwest by Wednesday morning.
In Canada, five people were reported dead from apparent carbon monoxide poisoning. Police said two people in Ontario died after using a gas generator to heat their blacked-out home northeast of Toronto. Police in Quebec said carbon monoxide poisoning was believed to be the cause of three deaths in a chalet on the province's North Shore. Earlier, five people were killed in eastern Canada in highway crashes blamed on severe weather conditions.
In the US, the nationwide death toll from the storm reached at least 14 on Tuesday, when a 50-year-old man in Knox, Maine, was overcome by carbon monoxide fumes from a generator. It was the second reported death attributed to fumes from a generator during the storm. Police in Michigan also attributed two deaths in a traffic collision that happened Monday to the storm.
As temperatures plunged into the low single digits (below minus 15 Celsius) in Toronto - where some 90,000 customers remained without power Tuesday - authorities reported a dramatic jump in calls for suspected carbon monoxide poisoning, responding to 110 calls in a 24-hour period. Officials said they typically see 20 such calls a day.
"We're looking at approximately six times as many calls," Toronto Mayor Rob Ford said as the city issued an extreme cold weather alert. "I understand they want to keep warm but you cannot do this. This is deadly."
Fire officials warned residents not to use any appliance that burns inside a home, and even cautioned against using a lot of candles.
In Toronto, where 300,000 customers lost power at the height of the storm, crews from Ottawa, Windsor, Manitoba and Michigan were helping local teams with their efforts.
Elsewhere in Ontario, more than 52,000 customers were still without power on Tuesday. In Quebec, 31,700 customers remained without power as of Tuesday morning. In New Brunswick, more than 40,000 customers were still in the dark, and about 2,000 were without power in Nova Scotia.
Canadian utility officials warned that some customers could be without power until Saturday.
Some US states kept emergency shelters open for people without power.
The number of customers in Maine without power spiked to more than 100,000 on Tuesday, even as Central Maine Power Co. sent more than 1,000 workers to help restore power throughout the state.
That was the case, too, in Michigan, where Jackson-based Consumers Energy - the state's largest utility - said it hadn't had this many outages during any Christmas week since its founding 126 years ago. Close to 17 percent of its 1.8 million electric customers lost power during the storm that hit late Saturday; roughly 152,000 remained without it Tuesday.
At their home outside Flint, Michigan, John Potbury and his family of four lost electricity at 6 a.m. Sunday and since then they have been living in a single bedroom warmed by generator-powered space heaters.
Lights on the Christmas tree were dark, of course, but there was no power to the freezer, either. "Even though the house is freezing cold, the freezer items were starting to thaw out," Potbury said.
That wasn't the greatest concern, however, for his kids, 8-year-old Jacob and 5-year-old Jackson. Potbury said he told them Tuesday, "Santa runs on reindeer power, not electricity, so he should be OK."
Source: AP