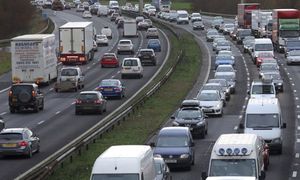 Torrential rain and heavy gales are threatening to create a hazardous Christmas getaway in many parts of Britain, forecasters have warned.
Gusts of up to 90mph are forecast in some areas on Monday and Christmas Eve, as heavy rainfall sweeps into south Wales and south-east England. The wintry showers have increased the possibility of a white Christmas in parts of Britain, with odds slashed in cities including Edinburgh, Glasgow and Manchester.
The Met Office issued a severe
weather
warning from dawn on Monday and advised travellers to brace themselves for chaos on the roads and rails.
"There is scope for very heavy rain, potentially some localised flooding, and strong winds in some areas so there is a risk of travel disruption," said Calum MacColl, a Met Office forecaster. An amber alert for rain was issued for south Wales and parts of southern England on Sunday, with conditions expected to worsen over the next 24 hours due to a low-pressure weather system swept in from across the Atlantic.
"[Monday] will start quite nicely in some places, but there will soon be heavy outbreaks of rain in the south-west of England and south Wales. That will quickly move into the north-east, and will bring gales with it."
Forecasters expect gales of 50-60mph across Britain, with gusts of 70mph on southern coastal routes in England, reaching up to 90mph in north-west Scotland. "Once the weather sets in, it will stay all day," MacColl said. "The worst areas will be the south-west of England, particularly on higher ground."
The Highways Agency issued an amber alert in the east, south-east and south-west of England, urging drivers of high-sided vehicles including caravans to avoid a number of the main getaway routes. John McTaggart, of the Highways Agency, said: "Road users are urged to check traffic and weather conditions before setting out on journeys and to heed any advice such as speed restrictions once they are on the strategic road network.
"Be aware of sudden gusts of wind, and give high-sided vehicles, caravans, motorbikes and bicycles plenty of space. In the event of persistent high winds we may need to close certain bridges to traffic for a period, so please be alert for warnings of closures and follow the clearly signed diversion routes."
Heavy snowfall is expected in central Scotland and the northern mountains,
although bookmakers have cut the odds on flakes falling elsewhere in the UK as temperatures fall on Christmas Day.
Bookmaker William Hill has odds of 2/1 that at least one snowflake will fall in Aberdeen, Glasgow or Edinburgh. Punters have also put money on a white Christmas in Belfast and Dublin, both at 4/1, and the odds of
snow
in London halved over the weekend to 5/1. "Before the weekend we'd all but written off a white Christmas but the last 48 hours have seen the biggest snow gamble for ages," said Alex Donohue of Ladbrokes.
Rail passengers were advised to check for disruption before they travel, with warnings of possible delays or cancellations to some east coast mainline services because of the stormy weather.
Virgin Trains lifted its ticket restrictions for travel Monday and advised those passengers planning to take an afternoon or evening traing to catch an earlier one, saying delays were likely.
Another operator, First Hull Trains, said Network Rail was likely to impose speed restrictions on trains to and from London throughout Monday.
Police in Cumbria urged people to be prepared over the next few days, with continued road disruptions and localised flooding. "The Met Office has advised that more heavy rain is due to hit Cumbria on Monday and high winds on Tuesday, therefore police want to take this opportunity to advise people to take care and be prepared."