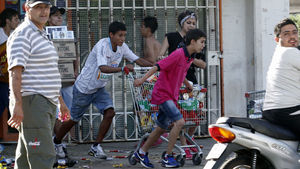 Argentina will intensify control over price limits on food products after the fastest inflation in two years sparked police strikes and looting.
The government will widen controls to include food producers as well as vendors and monitor prices in real time by tracking bar codes in a pact with companies that will be voluntary, Cabinet Chief Jorge Capitanich told reporters in Buenos Aires today. The agreement will span more than 180 goods including meat, cooking oil and bread, he said.
The government in June froze the price of 500 goods on supermarket shelves in a bid to rein in the region's second-fastest inflation. Speculation by businessmen, not government spending and money printing, is causing prices to rise, Capitanich said. At least eight people have died this month in looting across the country sparked by police strikes demanding higher wages to cope with the surging cost of living.
"There's a contagious effect on prices - if the price of milk rises, so does the price of a haircut," Capitanich said. "We are going to be rigorous with price controls on basic products. We want to protect consumers' pockets."
Inflation in November quickened to 26.8 percent in November from a year earlier, according to a monthly survey of economists published by opposition lawmakers. That's the fastest pace since lawmakers began distributing the report in May 2011 to protect the identity of the analysts who were fined by the government for reporting data that differed from official figures.
Read the rest of this article
here
.