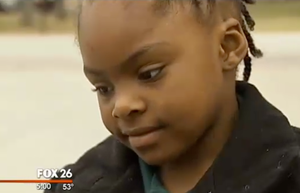 Amazing Johnson, 6, severed the top of her finger when it was accidentally caught in a door at school. Instead of calling 911, school officials only called her parents.
Latesha Coleman, Amazing's mother, received a call from Hughes Road Elementary administrators about her daughter's injury, but tells
KRIV Fox 26
they downplayed just how severe the injury was. Coleman was told the "nurse was working with Amazing, that Amazing was fine...She's being loved on by the nurse."
Emergency medical help was not called, even as it became clear that Amazing was missing a piece of her finger.
In a prepared statement, Dickinson I.S.D. confirms Amazing lost the tip of her finger and that her parents were called to take her to the hospital. Had they not been able to reach Amazing's parents or if it were a life-threatening incident, 911 would have been called,
Yahoo News
reports.
Latesha Coleman arrived at the hospital where Amazing had been taken by her father to find him holding a bag, "and he had the tip of her pinky in the bag."
Doctors were able to reattach Amazing's fingertip, but that does not dismiss the negligence Latesha Coleman feels the school displayed during the incident. She told
KRIV Fox 26
that she spoke with the school's principal and asked,
"Why didn't you call 911?" The response, "She didn't feel like it was an emergency." Coleman continues, "How is this not an emergency and her finger is in a bag...I'm thinking maybe a child has to be dead and that's the only way to call 911."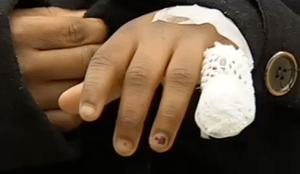 Other school districts in the area (Aldine ISD, Klein ISD, and Fort Bend ISD) reported to
KRIV Fox 26
that 911 is called only at the discretion of the school nurse. If an event is believed to be a medical emergency 911 will be called, otherwise the child's parents are contacted.