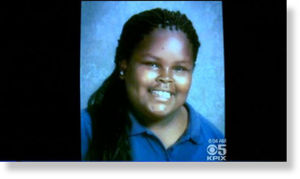 Family members of 13-year-old Jahi McMath are holding out hope for a miracle recovery after a routine procedure has left the girl brain dead. Last week, McMath went in to Children's Hospital Oakland to get her tonsils removed.
She was supposed to go home the next day, but her grandmother noticed severely bleeding from her nose and mouth after the procedure. She soon went into cardiac arrest.
The child is now hooked up to a ventilator and doctors are telling mother Nailah Winkfield she won't recover.
"At this point I'm just all cried out. I have no tears left, so the only thing I can do is stay here," said Winkfield. "I am not leaving unless she leaves with me because I will not let them pull the plug on my child."
Children's Hospital sent a statement which read, "We are very sad about her condition and our hearts go out to her and her family. We are currently reviewing the case."
The family said they have another meeting with doctors Monday, but they want to go above them and meet with hospital directors because they don't feel that they are getting the answers they need.
"The family wants to keep her on as long as possible... we believe in miracles and we believe a miracle will happen," said Winkfield. "I refuse to bury my daughter." Family members claim that hospital representatives have been pushing them to pull the child off of life support.