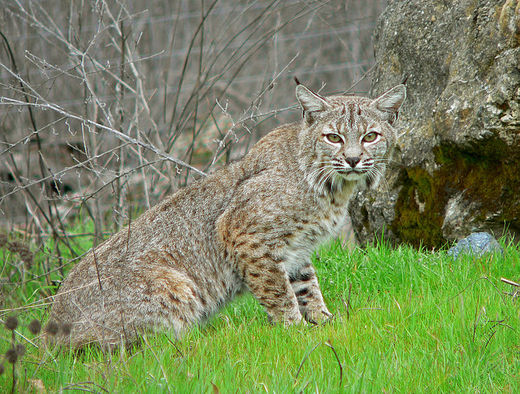 Cindy Bowman didn't know what hit her.
She was letting her dog into her county Route 2 home around noon Thursday when a large animal pounced on her, latching onto her face and biting and scratching her.
She was able to fight it off by choking it, but not before it bit and/or scratched her head, shoulder, arms and thigh.
"I turned around and it was leaping right for my neck," Bowman recalled. "It went for my throat."
Bowman was mauled by a large bobcat, a cat that minutes later went after her daughter's boyfriend, Nate Nadeau, and tried to attack him as well.
Nadeau shot and killed it, but state tests later found the cat had rabies, so both Bowman and Nadeau - who was not hurt but did have contact with the cat - had to get two weeks of rabies shots.
The incident has left Bowman shaken and afraid to go out of her house, and concerned that rabies is going to affect other bobcats in the area and make them aggressive as well.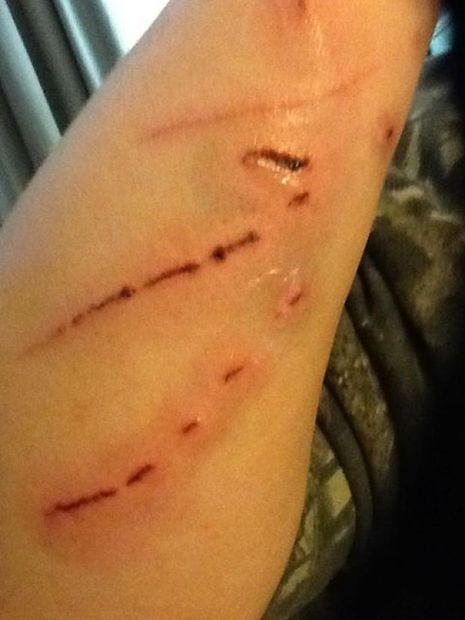 She said it was clear to her the bobcat was trying to kill her. At 6-foot-3 and 210 pounds, Bowman said it took all of her strength to get the feline off of her, and the animal left eight puncture wounds on her scalp.
"The DEC said if I didn't turn around it would have jumped on my back and it could have killed me," Bowman said.
It had apparently been under her home's porch before it went after her.
DEC spokesman David Winchell said bobcat attacks are extremely rare, and no one in the DEC with whom he spoke could recall another bobcat attack of a person. Bobcats typically avoid human contact whenever possible, he said.
"It wasn't surprising to learn it was rabid because it was so nontypical of a bobcat," he said.
Bobcats are native to the Adirondacks and the population in New York is considered "stable," according to the state Department of Environmental Conservation.
Patricia Hunt, Washington County's director of public health, said the attack was the first of a person by a bobcat in the county that she was aware of. She confirmed the bobcat was tested and found to be rabid, but could not discuss rabies treatment because of medical privacy rules.
She said raccoons and skunks are commonly affected by rabies, and rabies numbers in Washington County have been about average compared to recent years.
Bowman, 49, said the bobcat that attacked her was believed to be one of two that had been seen together in the Putnam Station area in the days before the attack. She won't let her kids or grandchild play outside for the time being
She said her biggest concern is for children in the area who wait around for the schoolbus, because another rabid bobcat could be nearby.
She said she asked Putnam school officials to send a letter home to parents warning them of the encounter.
"I'm scared to death for the kids," she said.
But school Superintendent Matthew Boucher said the district did not believe it should become involved in the situation because it did not have confirmation of what happened.
Hunt said people who see wild animals acting strangely or who spot nocturnal animals during the day should steer clear of them because of the possibility they're infected with rabies.
"In general, rabid animals can be quite aggressive," Hunt said.
Bobcats



* Population considered stable in New York.

* Tan, yellow, white and black with spots.

* Can grow up to 30 pounds.

* Estimated 5 bobcats per 100 square miles in Adirondacks.

* Favor rocky ledge areas for shelter and raising young.

* Deer and rabbits are biggest food sources.

Source: state Department of Environmental Conservation.
Local rabies cases



Confirmed cases of rabies in animals in the past three years:

Washington County

* 2013 - 3 (1 bat, 1 raccoon, 1 bobcat)

* 2012 - 9 (2 skunks, 4 bats, 2 woodchucks, 1 steer)

* 2011 - 5 (2 foxes, 1 kitten, 2 raccoons)

Warren County

* 2013 - 4 (1 fox, 1 cat, 2 raccoons)

* 2012 - 2 (1 cat, 1 bat)

* 2011 - None

Sources: Washington County and Warren County public health departments