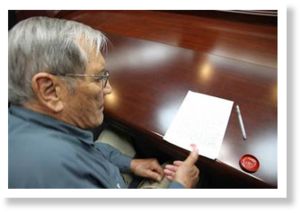 The 85-year-old American veteran who was detained for more than a month by North Korea said he was coerced into a reading a videotaped apology for "hostile acts" against the state and thanked all those who had helped him during his time in captivity.
"Anyone who knows me, knows that I could not have done the things they had me 'confess' to," Merrill Newman said in a statement released late Monday. "To demonstrate that I was reading the document under some duress, I did my best to read the 'confession' in a way that emphasized the bad grammar and strange language that the North Koreans had crafted for me to say. I hope that came across to all who saw the video."
He added that getting the "confession" and his "apology" had been important to his captors, who had otherwise treated him well after a North Korean military official took him off a plane on October 26. Lynch, a retiree from Palo Alto, Calif., suffers from a heart ailment and is in need of regular medication.
"My interrogator made it clear that if I did not cooperate I could be sentenced to jail for espionage for 15 years," Newman said, adding that he was under constant guard during his detention in a hotel in Pyongyang.
"If you do tell the full truth, in detail, and apologize fully, you will be able to return to your home country someday," Newman quoted his captors as telling him.
As a result, Newman
read the videotaped confession
asking for forgiveness for killing North Korean soldiers and civilians during the Korean War.
Newman's visit came six decades after he helped to train a group of South Korean wartime guerrillas during the 1950-53 war and he said he did not hide his military service from the tour company that organized his trip.
He added that he requested and was given permission by North Korean officials to visit the region where he spent his war years advising the clandestine Kuwol fighters. He was scheduled to visit South Korea following his North Korea trip to meet some of the former soldiers that he had helped train.
"I'm proud of my military service," he said, but admitted that he had failed to understand that for North Korea's leadership the "war isn't over" and that even innocent remarks "can cause big problems if you are a foreigner."
The 1950-53 war ended in an armistice, not a peace treaty, leaving the Korean Peninsula still technically at war.
"It is now clear to me the North Koreans still feel much more anger about the war than I realized," Newman said. "With the benefit of hindsight I should have been more sensitive to that."
Subject to a media blackout during his time in captivity, Newman said he had no idea how big his story had become and he apologized for causing, "so many people so much heartache back home." He also promised to reveal more about his time in captivity in the coming days.
He also thanked Vice President Joe Biden, who called him after he flew in to Beijing, "to wish me well and even offered to give a lift back to the United States on his plane." He chose a direct flight to San Francisco instead.
"We also ask that you not forget that another American, Kenneth Bae is being held in the Democratic People's Republic of Korea and we hope that he, too, will be allowed to rejoin his family," he said.
Bae, a Christian missionary, was arrested last year and sentenced in May to 15 years of hard labor on charges of committing hostile acts against the state.