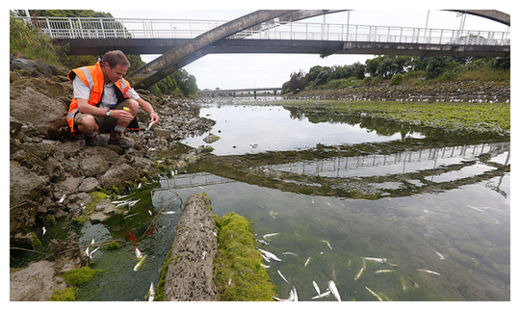 Pilchards have been confirmed as the fish which died in their thousands in Nelson's lower Maitai River yesterday and the city council says people shouldn't fish in the area for the next few days.
The deaths are unexplained but seem to have affected just the one species, with Fish & Game field officer Lawson Davey suspecting a chemical spill into Saltwater Creek, which joins the Maitai beside the Queen Elizabeth II Dr bridge.
Nelson City Council communications manager Angela Ricker said yesterday that, based on the good health of other species in the river, the public health risk was "probably low". The council was taking a cautionary approach.
Samples of fish, water and sediment had been sent for testing, with results expected late next week, and council staff would continue to monitor the area as a precaution over the weekend. Temporary signs would also be put up, she said.
Mr Davey, who along with others had at first glance thought the dead fish were mullet, said a Niwa scientist had confirmed them as pilchards.
Having since had time to examine them closely he said they seemed to have haemorrhaged from the gills and anus.
"It looks like it's acute toxicity, given it's only a very localised area, rather than a general event, but we're not sure at this stage."
Nelson Marlborough Institute of Technology aquaculture programme co-ordinator Dr Mark Burdass had also gathered samples. First assuming that any fish in the area would have died, he had since seen live eels, whitebait and other small fish that didn't appear to have been affected, and said no dead trout had been sighted.
"There are no dead fish further upstream, and there seem to be lots of fish downstream swimming quite happily, and moving back in with the tide."
At least one person had been seen gathering up the dead fish. It would be unwise to eat them, he said.
Source: Fairfax NZ News