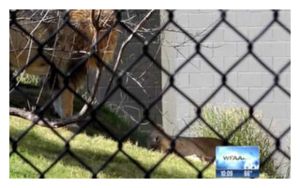 A lion at Dallas Zoo in the US has turned on a lioness it shared its enclosure with and killed her in front of horrified visitors.
The male wrapped his jaws around the neck of five-year-old Johari and within minutes she was dead. The Texas zoo said the pride of five - two brothers and three sisters - had lived together "peacefully" for years without incident and they have no idea what caused the attack.
"Johari was a remarkable animal, as are all of our lions," said Lynn Kramer, vice president of animal operations and welfare at the Dallas Zoo.
"This is a very rare and unfortunate occurrence. In my 35 years as a veterinarian in zoos, I've never seen this happen."
It is not rare for male lions to kill cubs in the wild. Families who had been watching the lions were moved away and a restaurant overlooking the enclosure was closed. Visitor Michael Henshaw described the shocking scene:
"At first you think they're playing; then you realise he's killing her ... and you're watching it," he told WFAA News. "You just can't believe your eyes."
Dallas Zoo tweeted that the remaining lions have been separated while the attack is investigated. A spokesperson added that it will "absolutely not" euthanise the killer lion.
It said: "Thank you, friends. It's a difficult day for us, but we're humbled by the outpouring of support."