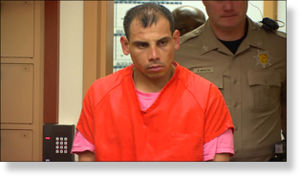 TACOMA, Wash. -- Pierce County prosecutors say a 32-year-old Lakewood man used a vacuum cleaner to beat his girlfriend to death after she refused to have sex with him.
Refugio Sanchez Jr. was charged Thursday with second degree murder in the Tuesday beating and strangulation death of Angela Cannizzio.
Sanchez, who's an active duty member of the US Army, drank a six pack of beer and a shot of rum after getting home from work Tuesday night, according to prosecutors.
Detectives believe Sanchez and Cannizzio got into an argument about Cannizzio's estranged husband, who lives in Connecticut. After the argument, Sanchez wanted to have "make-up sex," and when Cannizzio rebuffed him he picked up a vacuum cleaner and began beating her with it, according to charging documents.
Sanchez admitted to police that he hit Cannizzio twice with the vacuum cleaner before dragging her "like a rag doll" down the stairs to the living room, where he smashed her head into the floor "with great force." He also told police he strangled her with a t-shirt, according to charging papers.
Police arrested Sanchez early Wednesday morning and booked him into Pierce County Jail. After his booking, Sanchez was anxious to take a shower, saying,
"I can't wait to get this out from under my fingernails," according to prosecutors.
The medical examiner determined that Cannizzio, who was the mother of two children, died of strangulation and blunt force trauma to the head. She also suffered a lacerated liver, a broken rib and a fractured hyoid in the attack.
Officials from Joint Base Lewis-McChord say Sanchez joined the Army in 2008 and is assigned to the 7th Infantry Division.
Sanchez told police he has served two tours of duty in Afghanistan and has been diagnosed with Post Traumatic Stress Disorder, according to charging documents.
Sanchez was arraigned Thursday and his bail was set at $1 million.