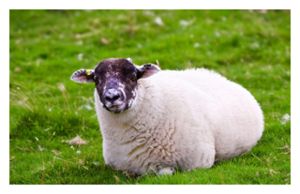 As a way to save money at a village churchyard, it had seemed like a splendid idea.
But a scheme to let loose a flock of sheep in a graveyard to keep the grass down has backfired, after they grazed on floral tributes and mementoes left for loved ones.
The ten ewes were introduced to Holy Trinity Church in the aptly-named village of Grazeley, Berkshire, because the parochial council said it could no longer afford anyone to mow the lawn.
But Nicola Millard, whose grandparents are buried there, said: "The condition is awful - basically they've ruined all the flowers and bent forward one of the headstones, and there is a lot of debris over the graves."
She added. "There is a little turnstile I go in rather than the main gates and I arrived to see four of them stood on my nan's grave. I was so heartbroken."
Vic Jerrom, who has several generations of ancestors buried there, described the damage as 'very disrespectful' to those laid to rest.
"It's a mess, the sheep are grazing on the graves and of course there is sheep droppings everywhere. It's despicable" he said.
Holy Trinity Church was last used in 2006, although burials still take place in the churchyard, which is managed by Grazeley Parochial Church Council.
The Reverend Chris Leslie said use of the flock was a "traditional way of managing churchyards".
"There is no source of income for mowing of the churchyard and the use of sheep in this way keeps the grass short" he said.