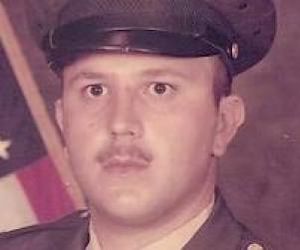 Foreign-born United States veterans living in the country legally are being deported in a spate of "tough on immigration" actions by U.S. Immigration and Customs Enforcement.
The November 2012 deportation of Arnold Giammarco, an Italian-born legal resident who grew up in Hartford, Conn. and served in the Army and National Guard, has garnered a significant outcry, including a
Change.org petition
and a website devoted to his cause,
FreeArnold.com
.
Gianmmarco, 57, was honorably discharged from the Army in 1979 and the National Guard in 1983. He was then charged with shoplifting and drug offenses after lapsing into substance abuse. He served his jail time and married Sharon Giammarco in 2010. They have a 3-year-old daughter.
On the Free Arnold website, Sharon Gianmmarco presents a portrait of a man who turned his life around and lifted himself out of substance abuse to create a stable family life.
"After four years of sobriety, he thought he would never again feel the cold burn of steel around his wrists," Sharon Gianmmarco wrote. "We thought that if we did the right thing, good things would happen. We thought that imprisonment was behind us and freedom was all around us and before us."
"That day in May when he was taken from us, we were running full speed ahead and were suddenly yanked backwards by an invisible rope that tied us to our past."
Gianmmarco is one of thousands of green card-holders who serve in the U.S. military, reported the
Connecticut Health I-Team
.
Mark A. Reid, 49, of New Haven, Conn. served in the Army Reserve for six years before being honorably discharged in 1990. He
now awaits deportation
to his native Jamaica due to four drug convictions. He has lived in the U.S. since the age of 14.
"He did his time, he served his country - he had jobs, and has a child in the military," said Rev. Joshua Pawelek, a Unitarian minister in Manchester who supports Reid's case.
"It just seems like a big disconnect that even though he committed some crimes, you should deport him."
While Congress members have raised concerns about
veterans being deported
, no action has been taken. Rep. Mike Thompson (D-Calif.),
twice attempted to get a law passed
that would require the approval of the Secretary of Homeland Security before the deportation process is initiated against any noncitizen veteran who served honorably. Those attempts were unsuccessful.
According to the
Hartford Courant,
the Obama administration has detained and deported more illegal immigrants than any previous administration.
Sources:
FreeArnold.com
,
Connecticut Health I-Team
,
Washington Post
,
Hartford Courant
,
Hartford Faith and Values
,
Deported Veterans Support House Page
,
OC Register