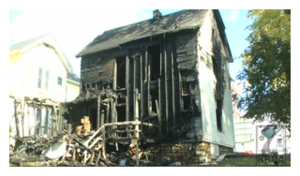 Police tased and arrested a desperate father as he tried to kick in the front door of his house to save his 3-year-old child from burning alive. As toddler was taken to the morgue, his father was taken to jail for trying to save him.
On the morning of November 1st, Ryan and Cathy Miller woke up in the middle of the night, overwhelmed with smoke. Their house was ablaze. They were forced out through back door, but their son, Riley, was still inside.
Step-father Ryan Miller circled the house to attempt to enter in through the front door, while Cathy placed a 9-1-1 call. The call was recorded at 12:58 a.m., and first-responders promptly arrived at the scene at 1:03 a.m.
As Ryan attempted to break through the locked front door, he was restrained by the very police officers that were called to help. Ryan was tased three times, then arrested. Ryan was forced to watch as the fire consumed the home.
By the time the fire department finally arrived on the scene the fire had become too hot for them to enter. The family was shocked by the actions of the officers.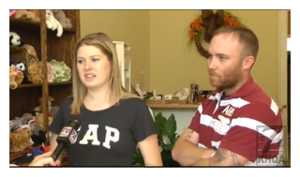 Later, when the fire was brought under control, Riley was found laying dead at the doorway of his room.
"He tried to get back in the house to get the baby," grandmother Lori Miller told
KHQA
. "They took my son to jail because he tried to save his son."
"It's just heartless. How could they be so heartless?" said sister-in-law Emily Miller. "And while
they all just stood around and waited for the fire department, what kind of police officer wouldn't try and save a three year old burning in a house?"
This is just one of many strange incidents where police seem to have no heart when making decisions. Who in their right mind would stop a father trying to have his child? What kind of police officer wouldn't try and help?
Friends and family members held a memorial for Riley on the town's Mississippi river front on Sunday night. People who want to help the Miller family can make donations to the Mercantile Bank in Louisiana, c/o "Ryan Miller" or the "Riley Miller fund."