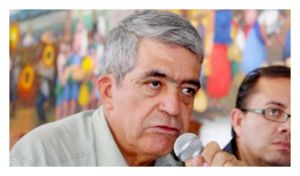 Mexican officials say a crusading mayor, who was allegedly threatened by drug cartels, has been found dead on a roadside in the western state of Michoacan.
The officials said on Friday local police found the body of Ygnacio Lopez Mendoza in his car on Thursday.
Mendoza was the mayor of Santa Ana Maya in Michoacan state, an agricultural town with about 12,000 residents. He was also a qualified doctor.
"The mayor ... was on hunger strike in front of the Senate complaining of complicity between local police and criminals. Today he's dead. How did it happen?" former President Felipe Calderon said on his Twitter account.
The mayor, who went on an 18-day hunger strike to raise more funds for his crusade against organized crimes, was publicly speaking against the Knights Templar drug cartel.
Calderon charged the cartel with the mayor's death based on an alleged quote by Mendoza saying, "For every building work, we have to pay the Knights Templar 10%. All of us, Michoacan mayors, have this problem."
Local authorities said in a letter that Mendoza's death "was not an accident".
"According to information given by his [Mendoza's] family, the doctor got home at about midnight and as he drove his car in, he was abducted by a group of people," the letter read.
In his term, Calderon ordered the deployment of about 50,000 troops across the country to combat drug gangs, but the violence has not decreased, despite all the government's efforts.
At least 70,000 people have been killed in drug-related violence in Mexico since Calderon launched an offensive against Mexico's drug cartels in December 2006.
Current Mexican President Enrique Pena Nieto has vowed to reduce the crime rate as he continues the campaign against the drug cartels.