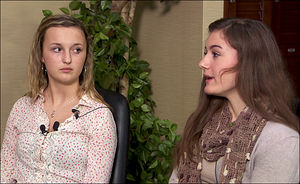 Parents and their teenage daughters, who say they were bullied into sending nude photos to boys at their school, have filed a federal lawsuit against the Clatskanie School District.
The girls say they were harassed and abused for three years and that their school didn't do enough to protect them.
"I thought, why would you ever send a picture of yourself out?" said one of the girls, Josi Harrison. "But what these boys do to you, you feel like you have no option."
They were only 12 and 13 years old at the time, seventh-graders at
Clatskanie Middle/High School
. The girls say when they tried to go to the principal, the school counselor and other teachers for help, they were told to "suck it up."
The students and their parents gave example after example. Boys were allowed into the locker room while girls were undressed and teachers watched as the girls got slapped in the face.
"That day for the second time, the same student made me bleed - he threw a book at me and cut my lip open," said another girl, Laura Lefebvre.
"I went to the principal, and I said this is enough. This isn't how I deserve to be treated. He said, 'Well, we can take you out of the class.' I said, 'That's not fair. That's them winning. I think there should be consequences for them.' He said, 'Well, boys will be boys.'"
The girls' mothers said the school principal refused to protect their daughters.
Laura's mother, Jennifer Lefebvre, said the principal told her "it had to be handled very delicately because he didn't want the harassment and the bullying to get worse than what she deserved. And I said she doesn't deserve this. No child deserves this. And we knew then that it just was a lost cause."
She said a few days later her daughter tried to kill herself.
"She said she felt like the people who are supposed to protect her and keep her safe either couldn't or wouldn't," Jennifer said.
Laura said she eventually accepted that she'd be harassed.
"And they did, over and over every day," she said. "The usual: 'You're a whore. You're a slut. We've all seen you. You're so fat.'"
The federal suit names Clatskanie School District and the principal of Clatskanie Middle/High School. The principal did not return a phone call Thursday seeking comment. The school district hasn't responded for a request for comment, either.
The attorney representing the students said the district has not yet formally responded to the lawsuit, but it has until mid-December to do so.
One girl's family has filed a civil suit against some of the parents and students.
The students and their parents are seeking $5 million in damages, according to their attorney.