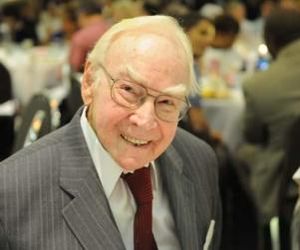 Former House Speaker Jim Wright, D-Texas, was denied the identification he needs in order to vote under the state's strict new voter ID law.
Wright told the Fort Worth
Star-Telegram
that he was denied an ID on Saturday when he and his assistant, Norma Ritchson, went to the Texas Department of Public Safety (DPS).
"Nobody was ugly to us, but they insisted that they wouldn't give me an ID," he said.
The 90-year-old, who served as Speaker from 1987 to 1989, only has an expired driver's license and faculty ID card from the Texas Christian University, neither of which are valid to vote under the new law.
He plans to returned to the DPS on Monday with a certified copy of his birth certificate, but said these hurdles will probably deter others from voting and decrease voter turnout on Tuesday.
"I earnestly hope these unduly stringent requirements on voters won't dramatically reduce the number of people who vote," Wright said. "I think they will reduce the number to some extent."
The Texas voter ID law is more strict than those in other states. A Texas voter who has no valid photo ID must prove citizenship with a birth certificate or passport, plus two other forms of ID, like a social security card or driver's license.
Wright, who has been a long-time voting rights advocate, says many people won't be able to meet the qualifications, like minorities and low-income voters.
"I've been thinking about the people who are in retirement homes," Ritchson said. "I've read that this is the lowest early voter turnout in a long time and I wonder if this [ID requirement] is the cause. We've tried so hard to make voting easy, and now the Texas Legislature has made it harder by making you have a photo ID."