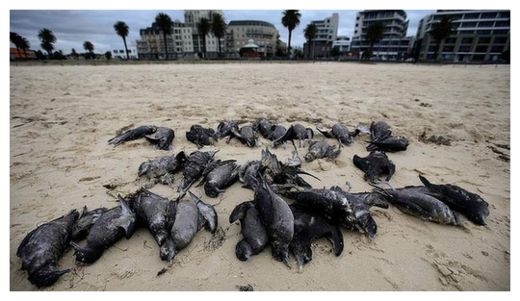 Muttonbirds are dying in their thousands nearly every year and much more frequently than ever before, washing up on the coast from Coffs Harbour to Tasmania.
On South Melbourne and Port Melbourne beaches on Wednesday beach cleaning contractor David Martinez picked up more than 150 short-tailed shearwater birds, a species of muttonbird. One day last week, he picked up a similar number.
At Lord Howe Island this month, 200 shearwater birds washed up for the first time in many years, Monash University seabird biologist Jennifer Lavers said. These deaths en masse, known as "wrecks", have been reported along the coast from Coffs Harbour to Tasmania, she said.
The short-tailed shearwater birds migrate 10,000 kilometres from the Bering Sea, between Alaska and Japan, to Australian shores in late September to nest. Dr Lavers said they have eaten little on their journey and are exhausted by the flight.
She said it was normal for wrecks to occur every 10 years, and this usually indicated a particularly "poor year" for the birds with storms or no fish available on arrival. However, major wrecks had occurred every second year since 2007, pointing to a wider problem, she said.
"We need to start asking the question of what is going on in the marine environment," Dr Lavers said.
"This isn't just a hiccough. This isn't just a freak event. It is not just that the fish have decided to relocate themselves for one or two years or three years. This is obviously an indication of a much wider problem."
Dr Lavers said the birds started washing up on the beach in late September. By this time, the female birds are often carrying their only egg for the year and journey to sea to hunt for food with breeding males.
Dr Lavers hypothesised that they may have failed to find fish and this may have contributed to the deaths.
"You don't want to lose your adult breeders. It spells trouble for species," she said.
Department of Environment and Primary Industries senior biodiversity officer Mandy Watson said in a statement that the feed available in the northern summer could affect the birds' journey as well as storms.
"Stormy weather and strong winds make it difficult for birds if they are already in poor condition from the long migration and this can be enough to cause their death," Ms Watson said.
"It is common for large numbers of short-tailed shearwaters not to make it."
Dr Lavers agreed that weather could play a role.
"Heavy winds will do great things to them, but is it just the wind? I would say no," she said.
Weather bureau forecaster Andrea Peace confirmed that Melbourne Airport wind records since 1971 show October had been the equal windiest month on record, based on average winds. The average wind speed was 23 km/h for the month.
Dr Lavers said there were many bird rescue groups in Melbourne and advised untrained beachgoers not to touch them. She said that even after a long journey they were often "feisty" and could leave bloody gashes on hands and arms.
Ms Watson said all native wildlife was protected in Victoria. "Because of the risk of being bitten or any disease the birds may carry unqualified people should avoid handling the birds if possible," she said.