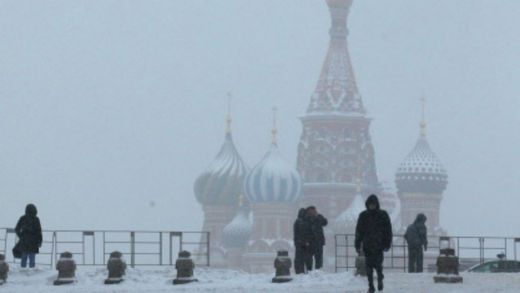 Record cold could also blast Eastern Europe.
In Krasnoyarsk , the temperature dropped to the lowest level in history, -6.5 ° C, according to the Russian Institute for Hydrological and Meteorological. Previous minimum of -6.4 ° C. was established September 27, 1988.
The Institute adds that it is a mean daily , not the minimum temperature , so you can guess that mercury bars at night dropped to below -15 degrees.
Already 60 per cent of the Asian part of Russia is covered with snow several centimeters deep. The snow is heaviest in the mountains of Magadan (40 cm) and the Yamal Peninsula (20 cm).
Coldest September in Moscow this century. And wettest?
All indications are this September in Moscow will be the coldest since the beginning of this century.
According to the Russian Institute in September this year in Moscow the mercury never exceeded 20 ° C, a very unusual phenomenon. Meteorologists estimate that this is the second month of this year, after March, with temperatures well below long-term norms.
September was not only cold, but also very wet - in the capital has fallen three times more rain than usual (up to 282 per cent on September 26).
Record cold week in Eastern Europe
A powerful high-pressure system over Scandinavia will soon blast eastern Europe, namely the Russian, Baltic States, Ukraine, with record cold air from the north. During the day the temperature will drop to as little as 4-6 degrees C, and at night down to -8, -10 degrees C.
As if that were not enough, many regions are expecting snowfall for the first time this season. It is estimated that the east of the continent and the Black Sea region will see temperatures up to 10-12 ° C cooler than normal.
http://krolowa-superstar.blog.pl/2013/09/29/padly-nowe-rekordy-zimna-na-syberii-na-tym-nie-koniec/
Thanks to Casper for this link