It started with the Farmer's Almanac. We've been hearing lots of talk about another brutal winter being in store.
Although seasonal forecasts are speculative at best, meteorology indeed has advanced to a point where it is possible to get an idea of what direction the upcoming season is tending towards. Farmers have been doing this successfully for centuries.
Meteorologist
Joe Bastardi in his Saturday Summary
at the 7-minute mark looks at the latest NCEP NCAR global winter forecast for 2013/14. The charts point to another "
brutal winter for Europe
". The forecast sees blocking and a negative NAO. Joe also
tweeted
that "
SST analog package combined with low solar, and climate cycle (similar to early 50s) argue for nasty Euro Winter
".
Joe is not alone in pointing out that weather services are looking at a brutal European winter. German meteorologist
Dominik Jung tweeted
the following chart from the French CFS meteorological services which shows really nasty cold in store for January.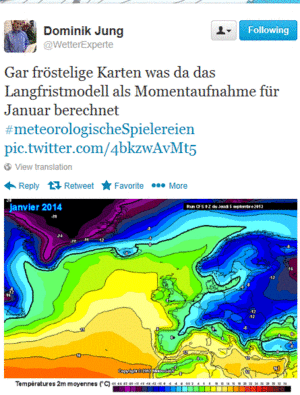 Moreover, the online
web.de magazine here
carries the title: "
Winter 2013/2014 is going to be really cold",
citing "
one of the most well-known long-term models of the American Weather Service
".
Web.de writes:
"It looks like the 2013/2014 winter is going to be extremely frosty. Jung has evaluated the data: 'Looking at these charts, it's going to be really cold."
Web.de adds that signs show the winter could be a long, protracted affair:
"The cold air flow from Eastern Europe to Central Europe could strengthen considerably. [...] Also the cold winter weather should continue through February and the Southwest could be hit by the Russian beast from the east. This scenario could extend into deep into March. 'After the last five much-too-cold winters, this development would be no real surprise and well within the realms of the possible,' says meteorologist Jung."
If this forecast (fraught with uncertainty) should pan out out to be true, then it would be a record six colder-than-normal winters in a row for Europe. You just couldn't drift further away from global warming. Six in a row would be nothing short of spectacular. Such a long, protracted winter as described above would make it one of the worst in 100 years.
But not every meteorologist is convinced that long-term seasonal forecasts are of any value. Swiss meteorologist
Jörg Kachelmann at Twitter,
for example, scoffs at such prognoses, writing that it's mainly stuff "
from the charlatan department
".
Again we have reiterate that these forecasts are truly speculative, and all the meteorologist point this out. So there really is no need to get pissy about it.
I'm a bit skeptical of the long-term winter forecasts as well, though not as much as Mr. Kachelmann. Large global scale weather patterns can change quickly. For example there's still lots of uncertainty as to what will happen with the ENSO in the months ahead, and if you can't predict the ENSO for the next few months, then how can you predict the other global seasonal patterns? Another example is the hurricane season. How often have hurricane season predictions been wrong?
On the other hand, we now have more than 100 years of detailed weather data that now allow us to recognize certain repeating patterns, and so seasonal tendency forecasts are becoming a reality. You can't just dismiss them offhand.