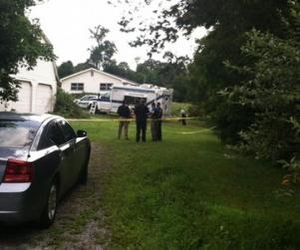 A Tennessee police officer has been placed on leave after shooting 68-year-old man to death in his garage allegedly following a brief verbal altercation. The officer claims the man was armed with a handgun and refusing to listen to his commands before the officer discharged his gun.
According to The Knoxville News Sentinel:
Deputy Ernest Ti Ragland, 22, was conducting a property check at 1856 Mentor Road in Louisville following two reported burglaries at the rental property this week, according to a Blount County Sheriff's Office news release
At the same time, Henry C. "Joe" Taylor apparently was making his own check inside the garage.
Ragland "saw a broken window and went to investigate it, then shined his flashlight inside the building and saw a man with a handgun," the BCSO news release states. "He told supervisors that he gave verbal commands, and fired multiple shots, striking Henry C. Taylor, 68, and killing him."Ragland, who has since been placed on paid administrative leave pending the Tennessee Bureau of Investigation's findings, has been with the sheriff's office since Dec. 2012.
Authorities have not yet said whether or not Taylor was armed, nor whether a firearm was recovered at the scene. They also have not specified whether or not Ragland was fired upon.
According to The News Sentinel, "Taylor served 20 years in the Air Force, and went on to work for another 20 years with the U.S. Postal Service in Knoxville. He expected to retire this December, the victim's younger brother, Roger Taylor, said."
A deputy had taken a report Tuesday from Henry Taylor about several items stolen from the property, including an HVAC unit, according to the Sheriff's Office.
"Around 7 p.m. Wednesday, Ragland responded to the residence to take a report on another burglary. The deputy told Cindy Taylor he would continue to check the property throughout the night. When Ragland returned about 10 p.m., he encountered Henry Taylor in the garage," according to The News Sentinel.
Sources:
The Knoxville News Sentinel
,
The Daily Times (Knox County)