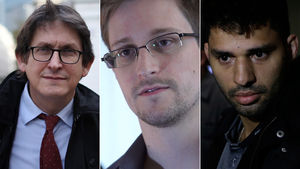 Home Secretary Theresa May says she was briefed ahead of the possible detention of David Miranda, the partner of a Guardian journalist, at Heathrow airport.
Mr Miranda was held for almost nine hours at Heathrow, as he travelled from Germany to Brazil where he lives with Glenn Greenwald, the journalist who reported on leaks from NSA whistleblower Edward Snowden.
Theresa May revealed she was briefed about the "possibility" that he might be detained. She said it was right for police to act as they see fit to prevent terrorism, and it was not for her to tell police who they should or should not stop at ports, or who they should arrest.
She said: "If it is believed that somebody has in their possession highly sensitive stolen information which could help terrorists, which could lead to a loss of lives, then it is right that the police act and that is what the law enables them to do."
A Downing Street source meanwhile said No 10 was "kept abreast of the operation in the usual way" but denied any political involvement in the decision to detain Mr Miranda.
Mr Miranda's lawyer Gwendolen Morgan said her client was seeking a judicial review of the legal basis of the detention.
Solicitors have also written to the home secretary and the Metropolitan police commissioner to seek assurances that Mr Miranda's mobile phone, laptop and drives, confiscated at the airport, would not be examined until legal proceedings had been concluded.
Elsewhere, Alan Rusbridger, editor-in-chief of the Guardian, has described how British agents from GCHQ oversaw the destruction of drives at the newspaper's offices.
'National security'
A statement issued by the Home Office, following the detention of Mr Miranda claimed police were acting in the interests of "public and national security".
"The government and the police have a duty to protect the public and our national security," the spokesman said.
"If the police believe that an individual is in possession of highly sensitive stolen information that would help terrorism, then they should act and the law provides them with a framework to do that.
"Those who oppose this sort of action need to think about what they are condoning. This is an ongoing police inquiry so we will not comment on the specifics."
'Shadowy Whitehall figures'
Guardian editor-in-chief Alan Rusbridger said in an opinion piece on Tuesday
, in which he discusses the detention of of Mr Miranda, that he was contacted "a little over two months ago" by a "very senior government official claiming to represent the views of the prime minister".
He writes: "There followed two meetings in which he demanded the return or destruction of all the material we were working on.
"The tone was steely, if cordial, but there was an implicit threat that others within government and Whitehall favoured a far more draconian approach."
He said he later had meetings with "shadowy Whitehall figures" who demanded the same.
'Call off the black helicopters'
Mr Rusbridger claims that around a month ago the mood toughened, and that the official confirmed to him that the government intended to take legal action if the materials were not handed over or destroyed.
"And so one of the more bizarre moments in the Guardian's long history occurred - with two GCHQ security experts overseeing the destruction of hard drives in the Guardian's basement just to make sure there was nothing in the mangled bits of metal which could possibly be of any interest to passing Chinese agents," Mr Rusbridger continues.
"'We can call off the black helicopters,' joked one as we swept up the remains of a MacBook Pro."
Mr Rusbridger's article concludes with a warning that due to increased surveillance "it may not be long before it will be impossible for journalists to have confidential sources".
Guardian spokesman Gennady Kolker declined to comment further, and messages left with GCHQ after working hours were not immediately returned.
An operator at the intelligence agency's switchboard said no one was available until Tuesday. A spokesman for Prime Minister David Cameron declined to comment.
'Necessary'
Scotland Yard said in a statement issued on Monday night: "The examination of a 28-year-old man under Schedule 7 of the Terrorism Act 2000 at Heathrow Airport on Sunday 18 August was subject to a detailed decision making process.
"The procedure was reviewed throughout to ensure the examination was both necessary and proportionate.
"Our assessment is that the use of the power in this case was legally and procedurally sound.
"Contrary to some reports the man was offered legal representation while under examination and a solicitor attended. No complaint has been received by the Metropolitan Police Service at this time."
'Blunt instrument'
A petition launched by Four Lions actor Adeel Akhtar calling for the government to urgently look at terrorism laws used to detain Mr Miranda has now gained more than 35,000 signatures.
The petition started by Mr Akhtar - who was held under similar laws in New York in 2002, was launched on campaign site Change.org less than 24 hours ago and has already attracted 35,426 names.
The page says: "Schedule 7 of the Terrorism Act 2000 allows the police to detain anyone at the UK's borders without any requirement to show probable cause and hold them for up to nine hours, without seeking further justification.
"Schedule 7 has a become a blunt legal instrument that the UK government can use to intimidate people who it doesn't agree with. I want to know how it was used in this case and how the government will stop innocent people, going through this."
'Freedom of press'
Labour has called on the government to explain its reasons for detaining Mr Miranda, saying "it isn't good enough ... to dismiss this as a matter for the police".
Shadow Home Secretary Yvette Cooper said: "If the police and government had a different purpose in detaining David Miranda for nine hours they need to say so, and set out what their legal justification was.
"We have an important tradition of freedom of the press in Britain and at the same time everyone also recognises that some information is kept secret to protect Britain's national security. Getting that balance right is extremely important, which is why the Theresa May needs to be clear about her intentions and about the legal framework.
"The police and security services work hard to safeguard our national security, and they need powers to prevent terrorism. However for public confidence to be maintained it is important that the government, police and security services are seen to abide by the rule of law, and to operate proportionately with proper checks and balances in place."