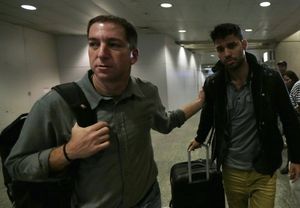 Media watchdogs and observers on Monday widely blasted the detention of David Miranda, the partner of
The Guardian's
Glenn Greenwald, as "disturbing" and an "attempt at pure intimidation."
Miranda, a Brazilian citizen, was held for nine hours Sunday at London Heathrow Airport and questioned under Britain's Terrorism Act, a move that many media critics decried in columns and statements on Monday. Miranda, 28, lives in Rio de Janiero with Greenwald and was passing through London's Heathrow airport after spending the week in Berlin with documentary filmmaker Laura Poitras, who has been working with Greenwald to release information leaked by former National Security Agency contractor Edward Snowden.
The Guardian
paid for Miranda's flights, the paper
reported
.
Media experts and watchdog groups in the U.S. and the U.K. were swift to criticize Miranda's detention, calling it an attempt to frighten Greenwald and other journalists. USA Today media editor and columnist Rem Rieder wrote that the British government detaining Miranda offers a "vivid example of how the War on Terror can morph into a war on journalism" and an "attempt at pure intimidation."
"It's another reminder of how governments, in their efforts to protect freedoms, can sometimes take actions that erode them," Rieder, who also dubbed it an "unseemly episode," wrote in his
column
.
Nick Cohen of the British conservative magazine
The Spectator
said the episode is "a clarifying moment that reveals how far Britain has changed for the worse." It's a stark reminder that those in Britain now live in a world "where not only journalists but their partners can be detained and questioned for hours on end," he wrote.
"Where police officers feel no need to explain themselves to the public, in whose name they work, and whose taxes pay their salaries. The next time they try to tell you that the secrecy and attempts to silence legitimate debate are 'in the public interest', do not forget what they did to David Miranda, because they can do it to you too," Cohen
wrote
in his piece, "David Miranda's arrest proves how sinister the state has become."
In his column for
The Guardian
, journalist Simon Jenkins characterized what happened to Miranda as "the airport equivalent of smashing into someone's flat, rifling through their drawers and stealing papers and documents."
"It is simple harassment and intimidation," he
wrote
.
"Greenwald himself is not known to have committed any offence, unless journalism is now a 'terrorist' occupation in the eyes of British and American politicians," Jenkins continued. "As for Miranda, his only offence seems to have been to be part of his family. Harassing the family of those who have upset authority is the most obscene form of state terrorism."
Several organizations also spoke out against Miranda's detention and questioning. Widney Brown, Amnesty International's senior director of international law and policy, said in a statement "it is utterly improbable" that Miranda was "detained at random, given the role his partner has played in revealing the truth about the unlawful nature of NSA surveillance." The detention, Brown said, was "unlawful and inexcusable" and shows "how the law can be abused for petty, vindictive reasons."
And Reporters Without Borders said in a
statement
"we are very disturbed by this unacceptable violation of the UK's obligations to respect freedom of information and the confidentiality of journalists' sources."
"The world's most repressive states often identify journalism with terrorism and now the British authorities have crossed a red line by resorting to this practice," the group said.
Greenwald, meanwhile, called the detention of his partner a failed attempt at intimidation, writing in The Guardian that "if the UK and US governments believe that tactics like this are going to deter or intimidate us in any way from continuing to report aggressively on what these documents reveal, they are beyond deluded."
"If anything, it will have only the opposite effect: to embolden us even further," he
wrote
.
Greenwald also spoke to reporters at Rio's airport and reiterated his stance that the detention would only spur him to report more aggressively.
"I am going to publish many more documents. I am going to publish things on England too. I have many documents on England's spy system. I think they will be sorry for what they did," he told reporters from the Brazilian press in Portuguese, according to the
Financial Times
.