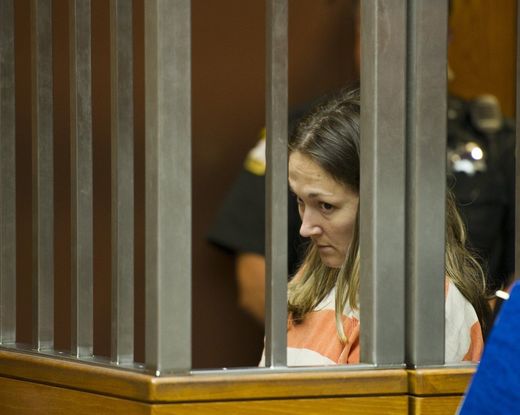 Baby Ryder was 8 months old when he overdosed on Xanax, methadone and the painkiller Opana - a fatal cocktail knowingly administered to him through his mother's breast milk, according to police allegations detailed in Sacramento County court documents.
Ryder Salmen died in September, five months after Sarah Ann Stephens had been warned to stop breastfeeding because of high levels of methadone found in her baby's bloodstream, according to court documents.
Stephens, 32, was charged with murder and two felony counts of child endangerment when she appeared before a Sacramento Superior Court judge Friday. She did not enter a plea and is scheduled to appear in court again Aug. 30.
Her privately retained attorney, Michael Sganga, did not return a phone call seeking comment Friday.
Efforts by
The Sacramento Bee
to reach Stephens' relatives Thursday and Friday were not successful. Efforts to reach the baby's father, who shared custody of Ryder and his sister with Stephens, and his family also were not successful Friday.
Citrus Heights police arrested Stephens on Wednesday, nearly a year after they responded to a call of an unresponsive baby in the 7000 block of Patricks Lane. Police didn't find any signs of foul play, and the baby's body was released to the Coroner's Office, according to a police detective's request for an arrest warrant.
Two weeks after Ryder's death, toxicology test results showed the baby had died of a prescription drug overdose, according to the warrant request.
The pathologist told a police detective that "the drugs were at a level that would have caused an adult addict to be high," and that results indicated that "Ryder had a tolerance to the drugs," the warrant affidavit states.
The detective, identified only as Detective Rothwell, wrote in the affidavit that during a conversation with Stephens - in which she did not discuss the coroner's findings - the suspect "stated if there were drugs found in Ryder's system she believed they possibly came from the father."
Stephens then named the same drugs identified in the toxicology report, the detective wrote.
The Bee
is not naming the boy's father because he is not a suspect in the case.
Stephens told the detective she was taking methadone "for pain management due to a brain tumor," Keppra for seizures and Ambien as a sleep aid, according to the affidavit.
She also reported that she previously had taken Opana for pain, and had started using Xanax for stress related to Ryder's death, the detective wrote.
However, Rothwell indicated in the affidavit that the Xanax use had started before the baby died.
Stephens said she was not breastfeeding, and a bottle taken from the baby's crib at the time of his death registered none of the drugs reportedly found in his system.
However, the detective wrote that "based on the timeline" it was the pathologists' belief "that the drugs entered Ryder's system while he was with Stephens, and that because Stephens is known to be taking these drugs it was most likely (passed) to Ryder through breastfeeding."
Rothwell also wrote about a conversation with Stephens' boyfriend, Matthew Wittmayer, who said Stephens told him the baby had been born drug addicted and, as a result, was a "really fussy" baby.
She confided in Wittmayer after Ryder's death, he told Rothwell, that she once gave him a portion of one of her pills to calm him, the detective wrote.
Upon reviewing Stephens' medical history, Rothwell wrote that Stephens had been cleared to breastfeed when Ryder was born.
But in April 2012, she was warned to stop. Stephens told the detective a "high level of methadone" had been found in the baby's system, according to the affidavit.
Four months later, the Placer County district attorney charged Stephens with child endangerment after the car she was driving, with her children in the back seat, went off the road, the court document states. Stephens' passenger had grabbed the wheel multiple times while Stephens was driving and was convicted of driving under the influence, Rothwell wrote. Stephens' case is still pending.
Rothwell concluded her affidavit by stating her belief that Stephens had "knowingly administered" the drugs through breastfeeding.