Hundreds of birds have died at Harrow Lodge Park after the hot weather caused a potent outbreak of botulism in the lake.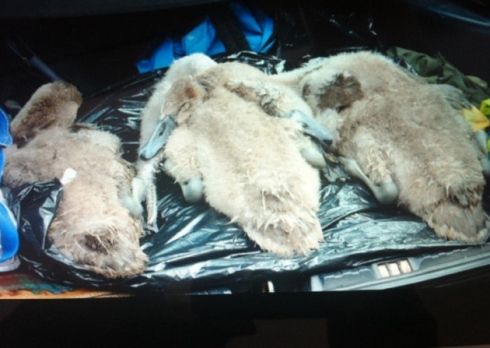 Lawrence Howes, a volunteer from the Swan Sanctuary, a charity that cares for swans and waterfowl, said that it was the "worst outbreak" he had ever seen in the Hornchurch park.
He added: "It has happened before, but this one is particularly potent.
"I have never known it this bad in Harrow Lodge Park."
The volunteers at the park have been scooping up dead ducks since the beginning of the week.
The swans have also been affected by the bacteria and today the volunteers noticed that the disease had killed three cygnets.
Resident Patricia Dowsett said: "It is heart breaking.
"It is so sad to see those innocent creatures dying helplessly."
Lawrence added: "It is really terrible.
"This normally affects the ducks, but it has taken the lives of three cygnets."
Botulism is a disease in lakes produced by botulinum bacterium.
It is caused when air temperatures rise and water and oxygen levels drop.
It also thrives in hot, dry weather.
Havering Council have put signs up in the park warning people to keep their dogs on leads around the lake.
A spokesman for Havering Council said: "We are working hard to relieve the problem.
"We've put bales of barley into the lake which release oxygen as they break down and tomorrow we will be installing pumping machines which will pump oxygen into the lake and cool the water.
"This should help significantly. As a precaution, we're asking people to avoid using the lake for boating or fishing over the weekend, while we complete tests on the water and let the pumps have an effect."