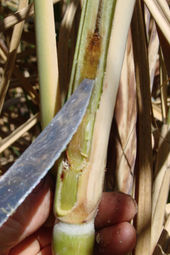 Sao Paulo - Last week's frosts in southern Brazil damaged nearly a fifth of the unharvested cane crop in the principal growing region, an event likely to cut sugar exports from the world's largest producer, agriculture research company Datagro said Wednesday.
Severe early morning frosts on July 24 and 25 in three of Brazil's top sugar-cane states devastated large areas, Datagro President Plinio Nastari told Reuters. The cold blight comes at the peak the crushing season when more than half of Brazil's expected record 590-million-tonne crop remains unharvested.
Although Nastari was unable to say how much mill-output will drop or reduce a global sugar glut that has pushed prices to three-year lows, he said 65 million metric tons, or 18 percent of the cane standing uncut in fields was damaged by the frost.
Frost in tropical Brazil has long been a weather risk for global coffee markets. This frost, though, is the first in recent history that threatens to significantly cut sugar output and it's impact will likely extend into the next harvest too.
"We don't know how much of the affected ... cane has been lost yet; we should know in about a week," Nastari said by telephone. "In some cases the ratoons (young shoots) were hit and will need to be replanted, so the impact will carry over into next year's crop."
New York ICE front month sugar futures recovered from an early morning low of 16.68 cents/lb soon after
Reuters
reported news of the potential frost damage. Prices later pierced the 17-cent threshold for the first time in a month to settle nearly flat with Tuesday at 16.92.
Alphaville, Brazil-based Nastari, one of Brazil's most respected sugar experts, has a PhD in agricultural economics from Iowa State University and hosts widely attended sugar and ethanol conferences in Brazil and abroad.
Saving the crop will depend on speed, Nastari said, as some fields, where frost has killed the core, or gem, of the cane plants, will likely rot before they can be harvested.
"The most serious damage from the two days of frost occurred over 70 to 80 percent of the cane still standing in the states of Parana and Mato Grosso do Sul," Nastari said. "A cane plant's gem is its center of growth. When the frost kills the top gem of a cane plant, it stops growing and begins to die."
He added that 15 million to 16 million metric tons in Brazil's fourth-largest cane state Parana and 16 million to 18 million metric tons in Mato Grosso do Sul, the fifth-largest cane producer, were seriously affected.
Before the frost hit, the government's crop supply agency, Conab, expected the two states to produce nearly 90 million metric tons of cane this harvest. The center-south cane crush, which accounts for nearly 90 percent of Brazil's sugar and ethanol output, is roughly 40 percent complete.
Nastari said an additional 30 million metric tons of cane in the Paranapanema Valley in Sao Paulo, Brazil's top-producing cane state, had been affected, but to a lesser degree. Only lower slopes were hit by frost he said.
According to data published by Brazil's cane industry association Unica on July 24, the main center-south cane region in question has harvested 223 million metric tons of an expected 590 million metric ton crop. Market estimates for center-south output average about 585 million metric tons and are being revised lower.
Nastari said that mills will be able to crush some of the cane that frost killed, but the frost-damage was extensive in Parana and Mato Grosso, and on some Paranapanema Valley farms.
"It will be too much for mills to reach before the cane begins to rot," said Nastari. "Their costs will also rise now because they will try to harvest on many fronts to try to reach the affected cane. This will require a lot of moving around of equipment, which is expensive."
Sugar and ethanol companies such as Louis Dreyfus' Biosev SA, Odebrecht's ETH Bioenergia, and Cosan SA, Brazil's largest sugar producer, will face higher costs and potentially smaller profits.
Nastari said the cold that dropped to zero Celsius (32 Fahrenheit) and below for at least two days last week, combined with rain, has also reversed the normal composition of sugars in the cane. This will cause mills to favor ethanol production even more than they already have.
Mills use just less than half of the cane crop to produce sugar and slightly more than half to make ethanol for the local flex-fuel car fleet and to blend into gasoline.
"Now we have more glucose and fructose and less sucrose in the cane, so mills will push for ethanol production over sugar because they will have a hard time getting crystallization," he added.
Source: Reuters