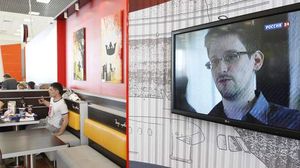 Edward Snowden May Leave Airport In Two Days
Edward Snowden's lawyer says he should be allowed to leave a Moscow airport transit area in the next few days. The American is expected to be granted papers by Wednesday allowing him to move to the city centre, according to his Russian lawyer Anatoly Kucherena.
Mr Kucherena, who helped the 30-year-old file his request for temporary asylum in Russia, said: "He should get this certificate (allowing him to leave the airport) shortly."
His bid for temporary asylum in Russia may take up to three months to process but he can pass through customs based on the initial response to his request, Mr Kucherena added.
The former National Security Agency (NSA) worker has not ruled out seeking Russian citizenship, his lawyer said.
Snowden believes it would be unsafe to try to travel to Latin America soon because of US efforts to extradite him to face espionage charges after he leaked details of the Prism surveillance programme.
His presence at Moscow's Sheremetyevo airport's transit zone, which is technically not Russian territory, since June 23 has strained US-Russian relations.
Venezuela, Bolivia and Nicaragua have all said they would grant him political asylum but none is reachable by direct commercial flight from Moscow.
Snowden leaked details of top-secret US surveillance programmes - giving details of the monitoring of phone calls and internet data from companies such as Google and Facebook - to The Guardian and Washington Post.